Can high-speed 'Hyperloop' become reality?
The proposed transportation system from Tesla Motors' Elon Musk is gaining plenty of attention, but critics question the design.
There are currently four main modes of transportation: cars, trains, planes, and boats. Could the fifth be "Hyperloop?"
Maybe, if someone has the ambition and funds to turn Elon Musk's new design for solar-powered high-speed travel into a reality. His Hyperloop propsal consists of two parallel steel tubes that send aluminum pods of passengers through a low-pressure system, CNBC's Phil LeBeau reported on Tuesday.
Each pod would have an electric compressor fan on its nose to transfer high-pressure air from its front to its rear, according to the design Musk released Monday. It could travel up to 800 miles per hour in a straightaway.
"There would be initial acceleration and once you're traveling at speed you wouldn't really notice the speed at all," Musk said on Monday. "It would just feel extremely smooth like you're riding on a cushion of air."
Each pod could hold up to 28 passengers. Hyperloop tubes would rest on elevated pylons, minimizing their impact on the environment.
Hyperloop pods could travel the 350 miles from Los Angeles to San Francisco in 30 minutes, according to Musk. He estimated that building the project to move people would cost $6 billion. A Hyperloop that could transport cars would cost $10 billion.
"That's already gotten a number of people saying, 'Wait a second that seems incredibly low in today's dollars in terms of getting something built like this,'" LeBeau said in the report.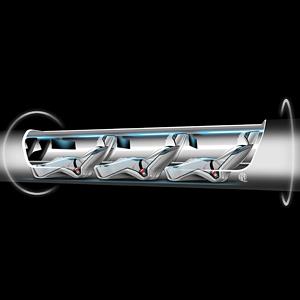 Musk came up with Hyperloop after California proposed a $68 billion high-speed rail project. In his report, Musk said he was "disappointed" to hear that the home of Silicon Valley would dedicate those resources to "one of the most expensive per-mile and one of the slowest" bullet trains in the world.
Musk did not commit to building a prototype for Hyperloop, citing his responsibilities at electric-car maker Tesla Motors (TSLA) and spacecraft-designer SpaceX.
Ron Diridon, executive director of the Mineta Transportation Institute, told CNBC that the Hyperloop technology is needed.
"In California we have such serious gridlock and climate change is so serious that we need to have something that operates off of freeways and is sustainable," Diridon said in the report.
Diridon added that Musk has a "reputation for delivering the impossible" and should be encouraged. He also pointed to a problem: the current lack of an operating prototype. Diridon said this would be necessary in determining the cost, effectiveness, safety, and environmental attractiveness of the project.
Still, Hyperloop has not escaped skepticism.
In an article titled "Why Elon Musk's 'Hyperloop' transport won't work," USA Today cited Navigant Research blogger Sam Jaffe's thoughts on the design. Jaffe, who is not an engineer, wrote that air compression in the tubes could create heat that could damage the pods and the machinery.
Wind could also create a problem, according to Jaffe.
"Any structure elevated 100 feet off the ground is going to be under a lot of wind pressure, which will act on it in weird and sometimes multiple directions," Jaffe wrote. "If that structure is a heavy tube stretching hundreds of miles in either direction, you effectively have a big sail."
DATA PROVIDERS
Copyright © 2014 Microsoft. All rights reserved.
Fundamental company data and historical chart data provided by Morningstar Inc. Real-time index quotes and delayed quotes supplied by Morningstar Inc. Quotes delayed by up to 15 minutes, except where indicated otherwise. Fund summary, fund performance and dividend data provided by Morningstar Inc. Analyst recommendations provided by Zacks Investment Research. StockScouter data provided by Verus Analytics. IPO data provided by Hoover's Inc. Index membership data provided by Morningstar Inc.
MARKET UPDATE
[BRIEFING.COM] The major averages ended the midweek session with slim gains after showing some intraday volatility in reaction to the release of the latest policy directive from the Federal Open Market Committee. The S&P 500 added 0.1%, while the relative strength among small caps sent the Russell 2000 higher by 0.3%.

Equities spent the first half of the session near their flat lines as participants stuck to the sidelines ahead of the FOMC statement, which conveyed no changes to the ... More
More Market News