Can Kodak find a new moment after bankruptcy?
A much smaller and commercially focused company will exit Chapter 11 next month. Losers include retirees, shareholders and creditors.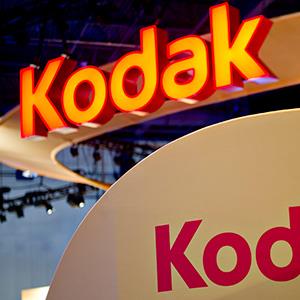 Eastman Kodak
 (
EKDKQ
) has won court approval to
exit bankruptcy
, but the company to emerge will cease selling to consumers. 
The one-time photography giant, which stumbled and failed to adapt to the advent of digital cameras, entered court protection with about 17,000 employees, but it will exit with only 8,500 workers, Bloomberg notes. 
Started by George Eastman in 1888, the company boomed over the next century, inventing the Brownie camera and creating the idea of snapshot photography with the slogan, "You press the button -- we do the rest."
But Kodak sold the consumer print and photographic products during the bankruptcy, severing ties to the businesses it was best known for. Today, Kodak is only slightly larger than it was over a century ago, when it employed 5,000 people in the early 1900s. 
Kodak hopes to exit bankruptcy on Sept. 3, although an attorney for the company warned that "closing is complicated," USA Today notes.
But the exit approval was far from a Kodak moment, given the overall suffering it means for retirees, shareholders and Kodak creditors. 
"Many are losing their retirement benefits," U.S. Bankruptcy Court Judge Allan Gropper said during approval of the plan, USA Today notes. "Many are finding their recovery as a creditor is just a minute fraction of what their debt is from Kodak. (Kodak's) decline and bankruptcy is a tragedy of American economic life."
Kodak filed for bankruptcy in 2012, after cutting 47,000 employees since 2003 and closing 13 factories and 130 photo laboratories, Bloomberg notes. 
The company stumbled as digital photography gained in popularity, despite the fact that one of its own invented the first digital camera. When engineer Steven Sasson demonstrated his prototype to Kodak's management in the 1970s, he recalled to The New York Times that their reaction was, "That's cute -- but don't tell anyone about it."
The new Kodak will need to spread its message far and wide, given the company's desire to dominate the commercial printing industry. Its plan also depends on selling $406 million of new stock. 
"Next, we move on to emergence as a technology leader serving large and growing commercial imaging markets -- such  as commercial printing, packaging, functional printing and professional services -- with  a leaner structure and a stronger balance sheet," chief executive Antonio Perez said in a statement.
Whether Kodak can recapture some of its lost magic remains to be seen.
Follow Aimee Picchi on Twitter at @aimeepicchi.

DATA PROVIDERS
Copyright © 2014 Microsoft. All rights reserved.
Fundamental company data and historical chart data provided by Morningstar Inc. Real-time index quotes and delayed quotes supplied by Morningstar Inc. Quotes delayed by up to 15 minutes, except where indicated otherwise. Fund summary, fund performance and dividend data provided by Morningstar Inc. Analyst recommendations provided by Zacks Investment Research. StockScouter data provided by Verus Analytics. IPO data provided by Hoover's Inc. Index membership data provided by Morningstar Inc.
MARKET UPDATE
[BRIEFING.COM] Equity indices remain near their lows with the S&P 500 trading down 0.8%. The consumer discretionary sector (-1.5%) slumped to the bottom of the leaderboard at the start and the growth-sensitive sector remains behind the other nine groups at this juncture.

High-beta names like Amazon.com (AMZN 321.92, -9.40), Netflix (NFLX 439.80, -17.72), and Priceline.com (PCLN 1157.78, -28.34) have contributed to the underperformance with losses ranging from ... More
More Market News