Will 'Wizard of Oz' in 3-D catch moviegoers' eyes?
The much-hyped format is waning already, but Warner Bros. is betting this rerelease will change that.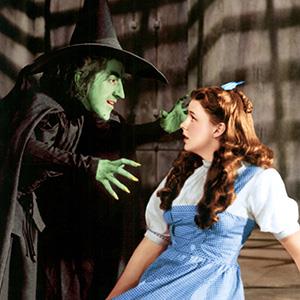 Would you be willing to spend $19 or so to see a classic childhood movie converted into IMAX and 3-D? Warner Bros., a division of Time Warner (TWX), is betting you will when it releases "The Wizard of Oz" in those formats next month.
IMAX (IMAX) and Warner Bros. teamed up with TCL Chinese Theatre, the former Grauman's Chinese Theatre in Hollywood, which is now owned by TCL (TCCLF) and has been undergoing renovations. It will soon reopen with the world's largest IMAX auditorium.
The theater will premiere the IMAX 3-D version of the film classic on Sept. 15, followed by an "exclusive" one-week engagement at IMAX theaters across North America starting on Sept. 20. All of this comes as "The Wizard of Oz," released in 1939, prepares to celebrate its 75th anniversary.
While Warner Bros. declined to discuss the costs of converting the movie into the IMAX 3-D format, it has reportedly been working on the project for years.
Ned Price, the studio's vice president in charge of technical operations, told the Los Angeles Times the original camera negatives for "The Wizard of Oz" were still in great condition, which made it possible for the studio to convert the movie into the modern formats.
"We still can't get all of the details that are in negatives," he said. "We're always going to improve as technology improves, and we're starting to catch up with what's in the camera originals."
The 2009 release of the science-fiction film "Avatar" in 3-D brought new life to the format, and many filmmakers and studios jumped on the bandwagon and produced alternative, 3-D versions of their movie blockbusters for consumers.
But the public may be tired of wearing funny glasses at the movies. Recent 3-D releases of "World War Z," "Turbo" and "The Wolverine" had lower-than-expected box offices, leading industry observers to wonder whether the trend is fading.
"We have become increasingly concerned that these lower levels will actually represent the norm going forward versus a recent exception as consumers are likely to remain increasingly choosy with 3D premiums," Eric Wold, an analyst with B. Riley & Co., said in a note to investors quoted by Good3dtv.com.
Some movie lovers are even questioning whether a beloved movie like "The Wizard of Oz" needs to be remade for IMAX and 3-D.
"The way it was originally made is the way it was meant to be seen," film historian Scott Essman told the L.A. Times. "Just because you can doesn't mean you should."
3D is awesome for this film and the nostalgia tied to it while introducing a new generation of movie goers to it by updating the film to a 3D and IMAX format would be beneficial. Not all films benefit from 3D and digital 3D glasses can malfunction while Real D 3D glasses don't experience technical issues in the movie theater. 3D may still exist but it's difficult to determine whether it will solely be profitable in home on 3D blu-rays or in movie theaters.
Are you sure you want to delete this comment?
DATA PROVIDERS
Copyright © 2014 Microsoft. All rights reserved.
Fundamental company data and historical chart data provided by Morningstar Inc. Real-time index quotes and delayed quotes supplied by Morningstar Inc. Quotes delayed by up to 15 minutes, except where indicated otherwise. Fund summary, fund performance and dividend data provided by Morningstar Inc. Analyst recommendations provided by Zacks Investment Research. StockScouter data provided by Verus Analytics. IPO data provided by Hoover's Inc. Index membership data provided by Morningstar Inc.
MARKET UPDATE
[BRIEFING.COM] S&P futures vs fair value: +1.00. Nasdaq futures vs fair value: -1.00. Nasdaq at... NYSE Adv/Dec 0/0... Nasdaq Adv/Dec 0/0.
More Market News