Can you be deported for being fat?
New Zealand may give a South African man the boot for taxing the country's health care system. Never mind that he lost 60 pounds while he was there.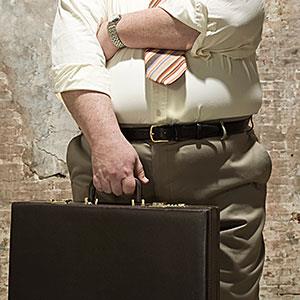 To the "Borgata Babes" in New Jersey who just discovered that it's OK for employers to fire people
for getting fat
, look at the bright side: At least you'll be able to get another, less misogynist job in the United States.
Albert Buitenhuis, a South African who has lived in New Zealand for six years, may get deported from his adopted home because the government says he is too fat. Though Buitenhuis actually weighed 65 pounds more when he first moved to New Zealand, the BBC reports that the 286-pound man couldn't renew his annual work visa because he failed to maintain "an acceptable standard of health."
One would think that would only help his cause in New Zealand, where nearly 27% of citizens are obese. However, that's still relatively svelte compared to the 33.5% of South Africans who qualify as obese and the 31.8% of Americans fitting the same description.
That presents a problem for New Zealand, where even residents like Buitenhuis who live in the country with work permits receive many health care services for free, including prescriptions and treatment at public hospitals. A U.S. resident spends nearly three times more money on health care than people living in New Zealand, according to country comparison website IfItWereMyHome.com.
The public costs add up in a hurry, though. In 2006, the private and public health care system spent $624 million on health care related to being overweight, according to The New Zealand Herald. That's a small fraction of the $190 billion the U.S. spent on similar care, according to the Harvard School Of Public Health, but it's not exactly a drop in the bucket for a small country.
An immigration spokesman said Buitenhuis's application had been rejected because his obesity put him at "significant risk" of complications including diabetes, hypertension and heart disease. That same spokesman also noted that "it is important that all migrants have an acceptable standard of health to minimize costs and demands on New Zealand's health services."
So it could be worse, cocktail servers: You could lose both your job and citizenship for putting on a few extra pounds or, in this case, even losing 60 or so.
DATA PROVIDERS
Copyright © 2013 Microsoft. All rights reserved.
Fundamental company data and historical chart data provided by Morningstar Inc. Real-time index quotes and delayed quotes supplied by Morningstar Inc. Quotes delayed by up to 15 minutes, except where indicated otherwise. Fund summary, fund performance and dividend data provided by Morningstar Inc. Analyst recommendations provided by Zacks Investment Research. StockScouter data provided by Verus Analytics. IPO data provided by Hoover's Inc. Index membership data provided by Morningstar Inc.
MARKET UPDATE
[BRIEFING.COM] A solid November employment report translated into a solid day of gains for the major averages. While there was some talk that the encouraging job growth raised the odds of the Fed announcing a tapering at its December meeting, the message of the markets today was either that it didn't believe there would be a tapering this month or that it doesn't fear a tapering this month.

It was just one day, yet there was ample meaning wrapped up in the connection that the 10-yr ... More
More Market News
TOP STOCKS
11 high-growth stocks to target in 2014
Finding companies set for solid profit increases at a reasonable price is always a winning strategy. By that standard, here are next year's most appealing firms.