Canceled air shows chill a joy of summer
Congress' mandatory budget cuts are grounding elite military flying teams, creating an economic ripple effect in many communities.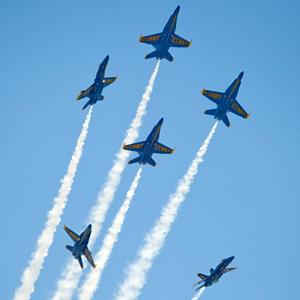 In many parts of the country, the annual air show is as much a part of summer as the local carnival or a night out at the movies. But there's been a change this year.

Sequestration -- the across-the-board federal budget cuts mandated by Congress -- has grounded the Navy's Blue Angels and the Air Force's Thunderbirds. These are the precision flight teams that usually tour the country by taking part in American air shows. Also affected is the Army's Golden Knights parachute team.
This past weekend in Chicago, the Air & Water Show drew about 1.7 million people to the city's lakefront to watch performances by civilian acrobatic teams in vintage planes. But those numbers were down from the estimated 2 million who attended last year, in part because of the absence of military flight teams.
"One of the things I miss most of all is the week before the show, you'd be driving and you would suddenly be (buzzed) by the Blue Angels," as they practiced for the show, Chicago resident Diana Widman told The Tribune. "That's how you knew it was the air show weekend."
Earlier this year, the International Council of Air Shows announced about 200 of the country's 300 air shows were being affected by sequestration, with dozens canceling their events altogether.

Council president John Cudahy told The Christian Science Monitor that air shows have an estimated economic impact of up to $2 billion nationwide and that some of these venues may never rebound from the big military attractions' sequester-related cancellations.

A spokesman for the Thunderbirds told The Monitor a typical season for the high-powered jet squad costs around $9.75 million -- money the Air Force needs for other missions.
Some air shows are getting community support. Hundreds of volunteers are working with organizers at the California Capital AirShow to ensure the event goes on as scheduled in October.
KCRA.com reports that air show near Sacramento is only one of two in the nation that are scheduled to have military jet performances this year. But in this case, that will mean an appearance by the Royal Canadian Air Force Snowbirds.
DATA PROVIDERS
Copyright © 2014 Microsoft. All rights reserved.
Fundamental company data and historical chart data provided by Morningstar Inc. Real-time index quotes and delayed quotes supplied by Morningstar Inc. Quotes delayed by up to 15 minutes, except where indicated otherwise. Fund summary, fund performance and dividend data provided by Morningstar Inc. Analyst recommendations provided by Zacks Investment Research. StockScouter data provided by Verus Analytics. IPO data provided by Hoover's Inc. Index membership data provided by Morningstar Inc.
MARKET UPDATE
[BRIEFING.COM] The S&P 500 (-0.2%) hovers near its session low with one hour remaining in the trading day. Meanwhile, the price-weighted Dow Jones Industrial Average (-0.1%) continues outperforming as 20 index members display losses, while the remaining ten components sport gains.

The index has received a measure of support from Boeing (BA 130.06, +2.51), which trades higher by 2.0% after beating on earnings and revenue. Elsewhere, Procter & Gamble (PG 80.31, -0.30) ... More
More Market News
TOP STOCKS
3 funds for hardcore contrarians
These ETFs are benchmarked to extremely out-of-favor foreign markets that most investors would quickly pass over. Whoever said being a contrarian was easy?