Cap'n Crunch crushes questions about his rank
With wit as sharp as his namesake cereal, the 50-year-old cartoon mascot cuts down a blogger's case that he's a mere commander.
Call Lucky a hopeless romantic for continuing his quest for Lucky Charms. Suggest that Sonny seek professional help for what's clearly a toxic relationship with Cocoa Puffs. Mock Count Chocula and Frankenberry for not being scary enough. Just don't try to pull rank on Cap'n Crunch: He'll carve up the roof of your mouth before you can say "aye aye."
Earlier this month -- because this is exactly the type of pedantic, insufferable society the Internet era has turned us into -- Canadian food blogger Charisma Madrang pointed out that Cap'n Crunch's uniform indicates he's not actually a captain but a commander. Madrang noted that a captain typically wears four stripes on his or her sleeve, while seaman Crunch wears only three.
This week, via his YouTube channel (because he apparently still has enough rank to warrant one of those), the animated mascot offered a response to those "mutinous ramblings." That reply boiled down to one basic declaration: Good work, genius.
"You may have noticed a few other things about me,'' he explains in the video (above). "I have four fingers. My first mate's a dog. My eyebrows are attached to my hat, for crunch sake!"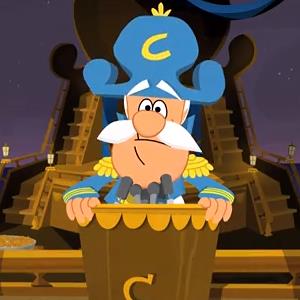 He's also never been aboard a ship unless it stocked his cereal in the galley and isn't on active duty with any naval fleets or maritime organizations. Also, after the Cap'n took to Twitter to defend his cell-shaded self, his followers noted that anyone who leads a ship can be called a captain.
Never mind that his official rank is actually "Cap'n," which doesn't have a uniform designation under naval code. Horatio Magellan Crunch has been sailing seas of milk on his S.S. Guppy since 1963 and comes from a long line of intrepid cartoon explorers, including Rocky and Bullwinkle, Mr. Peabody and Sherman and Dudley Do-Right -- all created by cartoonist Jay Ward.
As a seafaring merchant, Cap'n Crunch's record is unimpeachable to his "Swift-boating talk-show host rivals." This is his 50th year of hawking his flagship brand, and he's been getting folks on board for spin-offs like Peanut Butter Crunch and Crunch Berry for nearly as long.
Cap'n Crunch is so exceptional at his job, in fact, that he just turned this little slight into a sea of 50th-anniversary publicity for both his cereal and parent company PepsiCo (PEP). Respect the rank.
DATA PROVIDERS
Copyright © 2014 Microsoft. All rights reserved.
Fundamental company data and historical chart data provided by Morningstar Inc. Real-time index quotes and delayed quotes supplied by Morningstar Inc. Quotes delayed by up to 15 minutes, except where indicated otherwise. Fund summary, fund performance and dividend data provided by Morningstar Inc. Analyst recommendations provided by Zacks Investment Research. StockScouter data provided by Verus Analytics. IPO data provided by Hoover's Inc. Index membership data provided by Morningstar Inc.
MARKET UPDATE
[BRIEFING.COM] The major averages began the new trading week on a slightly lower note with small caps leading the weakness. The Russell 2000 shed 0.3% while the S&P 500 slipped less than a point with six sectors ending in the red.

Equity indices began the day in negative territory with only the Nasdaq (-0.04%) making a very brief appearance in the green. After sliding through the first hour of action, the major averages reversed and spent the remainder of the session climbing off ... More
More Market News
TOP STOCKS
What ate into McDonald's sales?
Like many companies this winter, the fast-food giant blamed a drop in same-store sales on the weather. But could its problems be bigger than a snowbank?