Casino can fire waitresses for gaining weight
A judge rules that Atlantic City's 'Borgata Babes' knew what they were getting into when they took the job.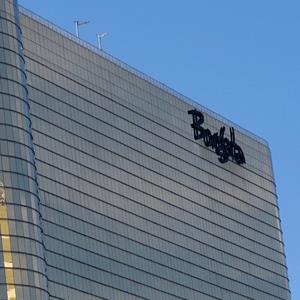 Atlantic City, N.J., gambling revenues are
getting pummeled
by casinos in neighboring states. Its newest casino, Revel,
just exited bankruptcy
. Until Memorial Day, most people thought its boardwalk was destroyed by
Superstorm Sandy
.
But what's the city's biggest issue, according to the Superior Court of Atlantic County? The waistlines of 22 former cocktail servers collectively known as "Borgata Babes."
Superior Court Judge Nelson Johnson ruled in favor of a policy at the Borgata Hotel Casino and Spa -- an Atlantic City casino co-owned by Boyd Gaming (BYD) and MGM Resorts International (MGM) -- that prohibits "Borgata Babes" from gaining more than 7% of their original body weight, according to NBC 10 in Philadelphia.
Although court documents show the women were advised to take laxatives before mandatory weigh-ins and to forgo prescription medication if it was causing them to tack on weight, Judge Johnson ruled the women knew what they were getting into before they took the job.
"The Borgata Babe program has a sufficient level of trapping and adornments to render its participants akin to 'sex objects' to the Borgata's patrons," Johnson wrote, according to the Press of Atlantic City. "Nevertheless, for the individual labeled a babe to become a sex object requires that person's participation."
Though Time magazine immediately blasted the ruling as evidence of rampant weight-based discrimination in the U.S. -- only Michigan has labor laws prohibiting it -- Judge Johnson's decision shouldn't come as a surprise to anyone who knows Atlantic City. Even in New Jersey's sea of diners, pork roll, pizza and subs, Atlantic City and its newly returned Miss America pageant have spent decades presenting and pushing their standard for the American female form.

Yet Judge Johnson says gender has nothing to do with the Borgata's policy, which applies to both male and female "Borgata Babes."

Granted, only 46 men had that title between February 2005 and December 2010, compared with 646 women. That fact didn't escape the notice of former Borgata Babes Renee Gaud and Trisha Hart, who brought a $70 million lawsuit against the casino in 2006 over the same policy. Their case ended quietly with a confidential settlement two years later.
The Borgata has attempted to present itself as a Las Vegas-style casino since opening a decade ago, and the Borgata Babes' miniskirts, cleavage-baring bustiers, black tights and high heels were all part of that shift in strategy. As casinos in Connecticut and Pennsylvania took off and gambling activities in New York and Delaware increased, even Judge Johnson noted that the town's dream of becoming Sin City East resulted in some lunk-headed misfires in the name of marketing.
"From the court's perspective, the term 'babe' is at best undignified and at worst degrading," Johnson wrote in his decision. "Regardless, there are people in our society who view 'babe' as playful flattery. . . . To the chagrin of those in our society hoping to leave sexual stereotypes behind, some of those people are female. And some of those people may be among the plaintiffs."
DATA PROVIDERS
Copyright © 2014 Microsoft. All rights reserved.
Fundamental company data and historical chart data provided by Morningstar Inc. Real-time index quotes and delayed quotes supplied by Morningstar Inc. Quotes delayed by up to 15 minutes, except where indicated otherwise. Fund summary, fund performance and dividend data provided by Morningstar Inc. Analyst recommendations provided by Zacks Investment Research. StockScouter data provided by Verus Analytics. IPO data provided by Hoover's Inc. Index membership data provided by Morningstar Inc.
MARKET UPDATE
[BRIEFING.COM] Equity indices remain near their lows with the S&P 500 trading down 0.8%. The consumer discretionary sector (-1.5%) slumped to the bottom of the leaderboard at the start and the growth-sensitive sector remains behind the other nine groups at this juncture.

High-beta names like Amazon.com (AMZN 321.92, -9.40), Netflix (NFLX 439.80, -17.72), and Priceline.com (PCLN 1157.78, -28.34) have contributed to the underperformance with losses ranging from ... More
More Market News