Cerberus hasn't kept Newtown gun promise
Nine months after the Sandy Hook school shooting, the private equity firm has failed to fulfill its vow to sell off AR-15 producer Bushmaster.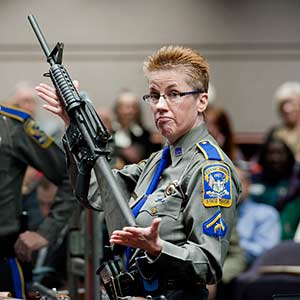 Some businesspeople just decided to talk a whole lot of junk after the elementary school shootings in Newtown, Conn., that left 20 children dead.
Dick's Sporting Goods (DKS) vowed to pull "modern sporting rifles," including the AR-15, from its shelves. Less than a year later, it was stocking them at its new Field & Stream stores. Oh well.
Cerberus Capital Management, the private equity firm that owns AR-15 maker Bushmaster as part of its Freedom Group holdings, vowed that it would divest itself of that stake "immediately."
A statement the company released on Dec. 14 of last year clearly spelled out Cerberus' position:
"We will retain a financial advisor to design and execute a process to sell our interests in Freedom Group, and we will then return that capital to our investors.  We believe that this decision allows us to meet our obligations to the investors whose interests we are entrusted to protect without being drawn into the national debate that is more properly pursued by those with the formal charter and public responsibility to do so."
Nine months later, Cerberus hasn't budged on its investment. Despite the facts that the father of the company's founder lives in Newtown and was shaken by the killings, and that offers for Freedom Group were rolling in as recently as July, the firm hasn't come close to a sale.
While Cerberus has never said it, a big reason for the hesitancy is implied by profit numbers, which Quartz has analyzed. Freedom Group is still making money for Cerberus. The gun company reports that second-quarter sales were 51% higher this year than in 2012. Considering that many Cerberus investors are state and municipal pension plans, there's a good chance they don't mind the extra money coming in.
In Cerberus' defense, the firearms business is booming. Although current gun owners still make up the vast majority of sales, the demographic makeup of multiple-gun owners has expanded since the Newtown massacre and the deadly shootings at a movie theater in Aurora, Colo., last summer.
Yet recent revelations by outdoor chain Cabela's suggest that while gun sales are still healthy, the boom is just about over. Background checks are still near record levels, but they've steadily decreased after a federal gun bill died in the Senate and as the nation's memory of recent shootings fades.
That last part is likely why Cerberus has had trouble not only finding a buyer for Freedom Group, but a bank to facilitate the sale.

However, as The Huffington Post reports, a group of activists is pressing Cerberus to keep its word and make the sale. A company spokesman said it received a letter from the activists Tuesday. He declined to comment and referred HuffPost to a statement Cerberus released in December detailing its intentions to sell the Freedom Group stake.
Cerberus still seems intent on doing that, or at least appearing as if it will.

Meanwhile, supporters who reply in painfully obvious fashion that Cerberus "is selling a legal product" and "can do what it wants with its business" miss the point entirely. In December, Cerberus cared so much about the events at Sandy Hook and the national discourse the tragedy sparked that it committed to publicly vow to take very specific action to address it.

Forces beyond its control may be partly responsible for its inability to keep that vow, but the fact that it's profiting from its failure to sell only undermines the integrity of both its statement and its business practices.
That's not a good look for a firm already named after a three-faced dog.
DATA PROVIDERS
Copyright © 2014 Microsoft. All rights reserved.
Fundamental company data and historical chart data provided by Morningstar Inc. Real-time index quotes and delayed quotes supplied by Morningstar Inc. Quotes delayed by up to 15 minutes, except where indicated otherwise. Fund summary, fund performance and dividend data provided by Morningstar Inc. Analyst recommendations provided by Zacks Investment Research. StockScouter data provided by Verus Analytics. IPO data provided by Hoover's Inc. Index membership data provided by Morningstar Inc.
MARKET UPDATE
[BRIEFING.COM] The stock market finished an upbeat week on a mixed note. The S&P 500 shed less than a point, ending the week higher by 1.3%, while the Dow Jones Industrial Average (+0.1%) cemented a 1.7% advance for the week. High-beta names underperformed, which weighed on the Nasdaq Composite (-0.3%) and the Russell 2000 (-1.3%).

Equity indices displayed strength in the early going with the S&P 500 tagging the 2,019 level during the opening 30 minutes of the action. However, ... More
More Market News