Charles Koch: $34,000 puts you in the top 1%
The billionaire businessman airs ads slamming the minimum wage and insisting that people on it are still relatively wealthy.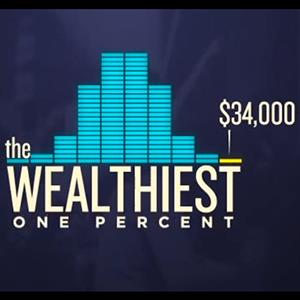 The Koch brothers can get left-leaning Americans' blood boiling just by drawing breath. Imagine the rage when they actually poke the bear a bit.
In its continued bid to leave its liberal counterparts as red-faced, flustered and hyperventilated as George Soros leaves his conservative detractors, the Charles Koch Foundation recently released a commercial that suggests an annual income of $34,000 puts a worker among the wealthiest 1% -- in the world.
The basic premise is that Americans don't need things like food stamps or the minimum wage to help them, because they're already so much better off than poor people in the world around them. The Economic Policy Institute can't help but disagree. Its Family Budget Calculator notes that a family of three would require an income of $45,000 a year to cover basic needs in Simpson County, Miss., the U.S. region with the lowest cost of living for a family of that size.
That need changes drastically by location and still dwarfs the $30,000 a year two parents working full time would make from the $7.25 minimum wage. In Wichita, Kan., where Think Progress notes Koch's $200,000 commercial campaign has begun, the amount of income needed to cover basic costs jumps to nearly $54,000.
Bloomberg puts Charles Koch's wealth alone at $43.4 billion. His brother and Koch Industries partner, David, is worth just as much. While that might jaundice their view of what a person on minimum wage needs to survive, Charles Koch insisted to the Wichita Eagle last week that the minimum wage is just one of the items that need to be removed:
We want to do a better job of raising up the disadvantaged and the poorest in this country, rather than saying, "Oh, we're just fine now." We're not saying that at all. What we're saying is we need to analyze all these additional policies, these subsidies, this cronyism, this avalanche of regulations, all these things that are creating a culture of dependency. And like permitting, to start a business, in many cities, to drive a taxicab, to become a hairdresser. Anything that people with limited capital can do to raise themselves up, they keep throwing obstacles in their way. And so we've got to clear those out. Or the minimum wage. Or anything that reduces the mobility of labor.
In Koch's view, these factors put the hurt on "economic freedom." His ad cites a report from the Koch-funded Fraser Institute showing that the "United States used to be a world leader in economic freedom but our ranking fell. And it's projected to decline even further."

Granted, the same report ranks Hong Kong, Singapore, New Zealand, Switzerland and Chile ahead of the U.S., despite the fact that they all have the government-run health care systems that Koch also loathes. When you're baiting your opponents into a lather, however, do those little details matter as much as the results?
DATA PROVIDERS
Copyright © 2014 Microsoft. All rights reserved.
Fundamental company data and historical chart data provided by Morningstar Inc. Real-time index quotes and delayed quotes supplied by Morningstar Inc. Quotes delayed by up to 15 minutes, except where indicated otherwise. Fund summary, fund performance and dividend data provided by Morningstar Inc. Analyst recommendations provided by Zacks Investment Research. StockScouter data provided by Verus Analytics. IPO data provided by Hoover's Inc. Index membership data provided by Morningstar Inc.
MARKET UPDATE
[BRIEFING.COM] S&P futures vs fair value: -8.00. Nasdaq futures vs fair value: -19.00. Nasdaq at... NYSE Adv/Dec 0/0... Nasdaq Adv/Dec 0/0.
More Market News