China's future is hitting a new Great Wall
The decades-long flood of peasants into cities in search of work is altering the nation's economic landscape.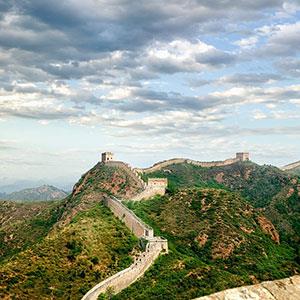 In spring 1979, I was an exchange student in Hong Kong. The U.S. had just normalized relations with China, and I was able to get a place on a short tour into Guangzhou, the city most Westerners knew then as Canton.
Rather than travel by train across the border like most people, our tour had to fly the 80 or so miles from Hong Kong (then a British Crown Colony) into Guangzhou. As we gathered on the tarmac, waiting for buses into the city, we could see a construction crew on the other side of the airport. We passed that group of workers as we drove out. Dozens of people, men and women, were carrying on their collective shoulders a long section of concrete drainage pipe maybe 10 or 12 feet in diameter.

And I remember thinking at the time: That's the personification of the word Americans know as coolie -- the bitter strength (ku li) of the Chinese peasant.
Those peasants have a long history of traveling to find better opportunities. They helped build America's railroads 150 years ago. And people closely watching China's growth say the hundreds of millions of peasants moving to China's cities today are propelling its economy into a new crisis.
This year marked the first time in history that more than half of China's 1.3 billion people officially live in cities. Compare that with 1982, when according to data quoted by Britain's Telegraph newspaper only 20% of Chinese lived in cities, or even from 2000, when that figure was 36%.
Paul Krugman, the Nobel Prize-winning economist and columnist for The New York Times, dealt with that issue last week in a column that's been getting a lot of attention. He says the engine powering China's decades of dramatic economic growth has reached its limits and is in trouble.
That engine, he says, has been China's "surplus labor" -- those ambitious, newly arrived peasants in China's cities, making a pittance in urban factories.
Countries in the early stages of economic development, such as China was in the 1980s, can invest in factories, construction and infrastructure without running into the issue of diminishing returns because, according to Krugman, "they can keep drawing in new labor from the countryside." At the same time, he notes, "competition from this reserve army of labor keeps wages low even as the economy grows richer."
But the dramatic exodus of China's rural population to its cities is changing that formula. As Krugman bluntly puts it, China is running out of surplus peasants, and those peasants-turned-city​-workers are also demanding a bigger piece of the economic pie.
Wages are rising, he writes. "Ordinary Chinese are starting to share in the fruits of growth. But it also means that the Chinese economy is suddenly faced with the need for drastic 'rebalancing' -- the jargon phrase of the moment. Investment is now running into sharply diminishing returns and is going to drop drastically no matter what the government does; consumer spending must rise dramatically to take its place."
Krugman later described the Chinese economy as a runaway bicycle -- incapable of slowing down but in danger of falling over if it stops moving forward. And "running out of peasants creates a wall" that's looming in front of that runaway bicycle, he says.
DATA PROVIDERS
Copyright © 2014 Microsoft. All rights reserved.
Fundamental company data and historical chart data provided by Morningstar Inc. Real-time index quotes and delayed quotes supplied by Morningstar Inc. Quotes delayed by up to 15 minutes, except where indicated otherwise. Fund summary, fund performance and dividend data provided by Morningstar Inc. Analyst recommendations provided by Zacks Investment Research. StockScouter data provided by Verus Analytics. IPO data provided by Hoover's Inc. Index membership data provided by Morningstar Inc.
MARKET UPDATE
[BRIEFING.COM] The stock market finished the Thursday session on a higher note with the S&P 500 climbing 0.5%. The benchmark index registered an early high within the first 90 minutes and inched to a new session best during the final hour of the action.

Equities rallied out of the gate with the financial sector (+1.1%) providing noteworthy support for the second day in a row. The growth-oriented sector extended its September gain to 1.9% versus a more modest uptick of 0.4% for the ... More
More Market News