Coca-Cola under fire in Mexico
Groups aided by New York City Mayor Michael Bloomberg attack the drink's popularity as the nation's obesity rate rises.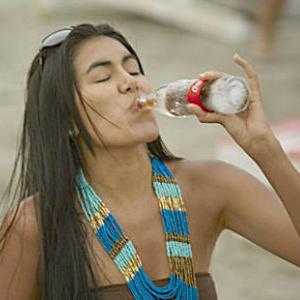 In the U.S., Mexican-made glass bottles of
Coca-Cola
(
KO
) have become the soft drink world's version of a delicacy -- a throwback to when the drink was made with cane sugar instead of the high-fructose corn syrup that was added to the U.S. version after the New Coke debacle of the late '80s.
With Mexico now sitting atop the United Nations' list of the world's most obese nations, that sugary staple is now under fire. Not surprisingly, New York Mayor and soda-ban proponent Michael Bloomberg is involved.
The Wall Street Journal reports that, this summer, a series of ads posted on buses, billboards and along subway platforms in Mexico City showed 12 heaping spoonfuls of sugar next to a roughly 20-ounce bottle of soda. The ads asked: "Would you eat 12 spoonfuls of sugar? Why do you drink soda?" El Poder del Consumidor, a public-interest group that financed the campaign, draws contributions from Bloomberg Philanthropies, the umbrella organization for Mayor Bloomberg's charitable activities.
With that in mind, the campaign isn't exactly an overreaction. Mexico recently passed the U.S. as the most obese nation with a population of 100 million or more. Seven out of 10 Mexican adults over the age of 20 are either overweight or obese, according to the country's latest national health survey. An estimated 10 million Mexicans have diabetes, or roughly 9% of the population, the highest proportion in any country with more than 100 million inhabitants. Diabetes is now Mexico's second-biggest killer after heart disease, up from ninth place in 1980.
Meanwhile, Mexico is second only to the U.S. in per-capita soda intake, according to Euromonitor International. Whether Mexico's soda consumption correlates to its obesity and diabetes or caused it depends largely on which side of the debate you're on.
"In the Mexican countryside, if you go to somebody's house and they don't have Coke to offer, they apologize. Coca-Cola symbolizes prestige," says Alejandro Calvillo, director of El Poder del Consumidor.
Both Mexico's soda bottlers and sugar cane growers, who get 20% of their business from soda companies, insist it's unfair to single out soda when there may be other contributing factors.
Though proponents say measures that would pull soda out of schools, fine Coca-Cola for misleading ads and tax soda products 20% would slash soda consumption by 26% while bringing in close to $2 billion a year in revenue, opponents note that soda is already taxed (to the tune of $1.5 billion a year) and is the only drink readily available in areas that lack clean drinking water.

This isn't a fight that Coca-Cola is about to give up willingly. Its products are increasingly under fire around the globe, with the World Health Organization's Global Conference on Health Promotion in Helsinki, Finland, targeting soda as a health risk. Meanwhile, Coca-Cola's soda sales in North America were down 4% last quarter and have declined in four of the last five quarters. Coca-Cola blamed the rain for its recent woes, but the raindrops it's hearing are more likely much of the world dumping its precious fizzy brown product down the drain in favor of less-fatty options.
DATA PROVIDERS
Copyright © 2014 Microsoft. All rights reserved.
Fundamental company data and historical chart data provided by Morningstar Inc. Real-time index quotes and delayed quotes supplied by Morningstar Inc. Quotes delayed by up to 15 minutes, except where indicated otherwise. Fund summary, fund performance and dividend data provided by Morningstar Inc. Analyst recommendations provided by Zacks Investment Research. StockScouter data provided by Verus Analytics. IPO data provided by Hoover's Inc. Index membership data provided by Morningstar Inc.
MARKET UPDATE
[BRIEFING.COM] The stock market finished the Tuesday session on the defensive after spending the entire day in a steady retreat. The S&P 500 (-0.6%) posted its third consecutive decline, while the small-cap Russell 2000 (-0.9%) slipped behind the broader market during afternoon action.

Equity indices were pressured from the start following some overnight developments that weighed on sentiment. The market tried to overcome the early weakness, but could not stage a sustained rebound, ... More
More Market News