Colorado's economy awaits impact of new gun laws
Some firearms companies say they'll leave, while hunting and sporting-goods operations fear a loss of business.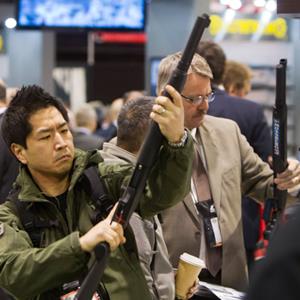 Observers of Colorado's controversial new gun laws are watching and waiting to see whether the restrictions will have an economic impact on the state.
Two new laws took effect Monday. One requires a universal background check on gun purchases, and the other enforces limits on the size of ammunition magazines sold in the state -- some of the strictest gun laws yet in the Rocky Mountain region.
Many people among Colorado's large population of gun owners aren't pleased, especially about the ban on high-capacity magazines. Gun-rights advocates say the laws will be a setback for the local economy.
Earlier this year, Magpul Industries, which produces 30-round magazines, said it would move its operations elsewhere if the gun laws went into effect.
And over the weekend, ahead of the law's enactment, the company gave away hundreds of 20- and 30-round magazines to adults at a "Farewell to Arms" festival hosted by a Colorado gun-rights group in suburban Denver. Those large-capacity magazines will be grandfathered under the new law.
Magpul says it directly employs about 200 people in Colorado and supports 400 supply-chain jobs while adding more than $85 million annually to the state's economy.
Last month HiViz, a Fort Collins company that makes gun sights and firearm accessories, applied for a $2.5 million grant from the Wyoming Business Council to help move its operations to Laramie. That city's officials estimate HiViz could have a local economic impact of more than $145 million over a 10-year span.
The Colorado magazine limit also affects sports and hunting operations. "I had to take guns off the shelf this morning because I don't have magazines that'll fit them," Cañon City Sports Outlet co-owner Jason Gardner told the Daily Record. "There are some guns that they won't make magazines for."
"This is a very poorly thought-out, irrational law," Paul Paradis, the owner of Paradise Sales in Colorado Springs, told Fox News on Monday. "And the shame of it is it's not going to stop one criminal from doing harm to anybody."
Sheriffs from 54 of Colorado's 64 counties have filed a suit against the new laws, saying they're essentially unenforceable. A preliminary court hearing on their legal challenge is scheduled for next week.

The magazine ban makes absolutely NO sense - Coloradians will just but their 30 round magazines from the internet.  The BACKGROUND check I applaud - it will be an admin burden but it will help keep guns out of the hands of those that have displayed by their past action that they are risks.
As to the lawmakers that made the law - well - Coloradians you placed them in office.

This was simply a knee jerk reaction supported by our illustrious Gov. Lickenpooper after the Aurora Theater shootings and in response to the Newtown school shootings.  It will only serve to keep the honest folks honest and the criminals will still get their magazines elsewhere.
I hope to GOD that people in this state that I love come to their senses before it's too late.  Time to take action in the voting booths!!!

So, those who try to make a ground check or limit capacity are traitor. If you are talking about haunting, please, give an animal a chance. Otherwise it is a shouter, not a sport. If you believe that it is safe and good to have everybody in the street with a high power assault rifle, please, watch what do you wish for. I am glad that there are some people who stand to the corporate lobbies and start the battle which of course looks at first hopeless. But finally the question should be solved. People do not need a piece of artillery to haunt a haze that is for sure.  
Are you sure you want to delete this comment?
DATA PROVIDERS
Copyright © 2014 Microsoft. All rights reserved.
Fundamental company data and historical chart data provided by Morningstar Inc. Real-time index quotes and delayed quotes supplied by Morningstar Inc. Quotes delayed by up to 15 minutes, except where indicated otherwise. Fund summary, fund performance and dividend data provided by Morningstar Inc. Analyst recommendations provided by Zacks Investment Research. StockScouter data provided by Verus Analytics. IPO data provided by Hoover's Inc. Index membership data provided by Morningstar Inc.
MARKET UPDATE
[BRIEFING.COM] The stock market finished the Tuesday session on the defensive after spending the entire day in a steady retreat. The S&P 500 (-0.6%) posted its third consecutive decline, while the small-cap Russell 2000 (-0.9%) slipped behind the broader market during afternoon action.

Equity indices were pressured from the start following some overnight developments that weighed on sentiment. The market tried to overcome the early weakness, but could not stage a sustained rebound, ... More
More Market News