Chicago Board of Trade silences floor traders
Some of them are suing the exchange, but most have ended their shouting of buy and sell orders in favor of electronic transactions.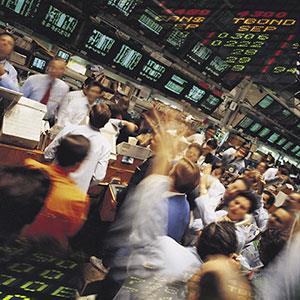 It's going to be pretty tough to reenact the climactic scene on the commodities floor from "
Trading Places
" or to piece together Ferris' itinerary from "
Ferris Bueller's Day Off
" without all those traders yelling and shouting.
The days of the flailing, verbose floor trader are coming to a close as the Chicago Board of Trade's 165-year-old open-outcry grain markets make the transition to computerized trading. A group of floor traders is suing CME Group, which owns the Board of Trade, and its top executives to reverse rules implemented last summer that they claim are killing the trading pits. In reality, however, the shouts quieted to a murmur long ago.
The new rules allow electronic prices to be blended with those in the pits for determining settlement prices. That breaks with the old practice of relying solely on "open outcry" to set the key pricing benchmark, but it continues a growing trend toward quieter online trades.
CME's biggest rival, IntercontinentalExch​ange, last year ended 142 years of open-outcry trading in New York when it closed the trading floors for sugar, cocoa and other soft commodities. Those were the last ICE markets to go all electronic.
More than a decade earlier, the London International Financial Futures Exchange abandoned the more raucous trading when it switched abruptly to all-electronic trading. CME's Comex and Nymex markets are still hanging on to pit trading for oil and precious metals in New York. In truth, however, this transition has been in the works since electronic trading appeared in the 1980s.
Open outcry was the dominant form of futures trading after the CBOT created the world's first futures exchange in 1848. In "Ferris Bueller's Day Off," Ferris' buddy Cameron gave Americans their first glimpse into CBOT sign language, in which a palm facing toward the body indicates a buyer and a palm away from the body represents a seller. Traders used such hand gestures to signal the volume and price of contracts to floor brokers from banks of phones on the edge of the trading pits.
The hand signals and phone banks may have added a bit more romance to the whole exchange for tourists in the galleries, but they're a little too quaint and inefficient by today's technological standards. Patrick Hillegass, a 31-year veteran of the floor, told Reuters he doesn't even bother taking visitors on tours of the pits anymore.
"I feel like I'm taking them through a wax museum," he said.

More and more relying on the computer.   When the computer fails for good, there will be ignorance on the floor and our economy will be dead without anyone knowing how to revive it.  
They need to keep at least one exchange working the old way to allow for training of those that were only trained to use computers.
Just remember... there's a guy somewhere struggling to keep his X86 2mb Ram B&W display NEC laptop going because actually DID invent the Internet and when he goes, IT goes. Everything has a birth and everything has a death.. most often realized with wide glassed eyed stares and a look of undeniable disbelief.

I have mentioned and degraded situations like this for a few decades...
It is of utmost importance to be diversified in today's world, with back-up after back-up..
Without those fail safes laid into place, we are at the mercy of catastrophes and chaos.
We have 2 Computer systems, three different Tel systems...
And ways to receive other Media.
We can cook with gas, wood or charcoal..
And heat with oil, electric, or wood.
And generate for anything needing electric, particularly water, heat or refrigeration.
Too lazy to put in hand pump well, but we do have other water sources.
We are not doomsayers, we just live in the Country.
When many big venues go down, even such as CBOT or W St. they go crazy.
And many places, become chaotic...Poor planning on their parts...And many Americans are soft.
Are you sure you want to delete this comment?
DATA PROVIDERS
Copyright © 2014 Microsoft. All rights reserved.
Fundamental company data and historical chart data provided by Morningstar Inc. Real-time index quotes and delayed quotes supplied by Morningstar Inc. Quotes delayed by up to 15 minutes, except where indicated otherwise. Fund summary, fund performance and dividend data provided by Morningstar Inc. Analyst recommendations provided by Zacks Investment Research. StockScouter data provided by Verus Analytics. IPO data provided by Hoover's Inc. Index membership data provided by Morningstar Inc.
MARKET UPDATE
[BRIEFING.COM] The major averages ended the midweek session with slim gains after showing some intraday volatility in reaction to the release of the latest policy directive from the Federal Open Market Committee. The S&P 500 added 0.1%, while the relative strength among small caps sent the Russell 2000 higher by 0.3%.

Equities spent the first half of the session near their flat lines as participants stuck to the sidelines ahead of the FOMC statement, which conveyed no changes to the ... More
More Market News