'Compassion fares' for emergency travel get scarce
Airlines that still offer them often make passengers jump through hoops to qualify. And the discount can be meager.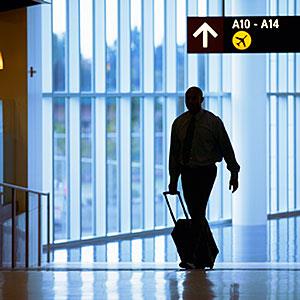 Are the airlines at all compassionate when it comes to so-called compassion fares? There was a time when carriers offered something called emergency, bereavement or compassion fares for customers in crisis -- people traveling at the last minute to see a very sick or dying relative, or to be with family members after the death of a loved one.
As the website The Plane Rules notes, "while the airlines are not a social service agency, they provided this as a humane service."
But it appears that humane connection with the public is going the way of the biplane. As the airlines come out of the recession and consolidate their business, they say it no longer makes good business sense for them to offer compassion fares. Or, when they do, they'll make you jump through hoops to get them.
Bereavement fares reflected a different era for the industry, says Maclyn Clouse, a professor of finance at the University of Denver's Daniel's College of Business -- a time when flights weren't regularly filled to capacity. "If you've got an empty seat that can be given to someone on a bereavement basis for a 10% discount, (the airlines are) still getting 90% instead of an empty seat," he told MSN Money.
But given the overall reduction in flights and the growing number of would-be passengers turned away from overbooked flights, Clouse says, "there's not an inventory of unfilled seats that they can be compassionate with."
Most airlines either no longer have compassion fares or make their requirements very hazy. "While fares offered under the Bereavement policy vary in price," Delta's (DAL) website says, "the additional flexibility may be beneficial to accommodate unexpected changes in your travel plans."
United (UAL) is one of the few carriers to have a straightforward bereavement policy: a 5% discount on fares, one way or round trip, "in the event of a death or serious illness (requiring hospitalization or hospice care) of an immediate family member."
Its website lists the several dozen types of people who fall under the definition of "immediate family member." But it also requires some substantial documentation from the potential passenger for that discount: a copy of the death certificate if the relative is deceased or, in the event of a serious illness, a note on letterhead paper from a physician.
Experts suggest that if you have the time and emotional energy, shop around for discount fares, because a lot of compassion fares offer discounts only on the most expensive tickets to begin with.
In USA Today several years ago, Bill McGee noted it's hard not to be cynical and wonder whether the airlines are taking advantage of a customer's difficult situation "by making their bereavement fares opaque and available only by telephone, and therefore harder to comparison shop."
"Even non-cynics, however," he added, "would have to conclude that searching for bereavement fares is not easy even under the best of circumstances."
DATA PROVIDERS
Copyright © 2014 Microsoft. All rights reserved.
Fundamental company data and historical chart data provided by Morningstar Inc. Real-time index quotes and delayed quotes supplied by Morningstar Inc. Quotes delayed by up to 15 minutes, except where indicated otherwise. Fund summary, fund performance and dividend data provided by Morningstar Inc. Analyst recommendations provided by Zacks Investment Research. StockScouter data provided by Verus Analytics. IPO data provided by Hoover's Inc. Index membership data provided by Morningstar Inc.
MARKET UPDATE
[BRIEFING.COM]
Commodities ended the day mostly lower today with energy, excl natural gas, grains (corn, wheat and soybeans) and copper and silver all finishing in the red.
Gold and natural gas futures ended today's session higher.
Grains sold off today following the monthly USDA WASDE report.
Corn ended the day 2% lower at $4.87/bushel, soybeans lost 40 cents (or -2.7%) to $14.19/bu and wheat fell 14 cents (or ) to $6.39/bu.
Copper ended 1.6% to ... More
More Market News
TOP STOCKS
What ate into McDonald's sales?
Like many companies this winter, the fast-food giant blamed a drop in same-store sales on the weather. But could its problems be bigger than a snowbank?