Congressman laments $172,000 salary
Georgia Republican Phil Gingrey is under fire for complaining about his compensation at a closed-door meeting.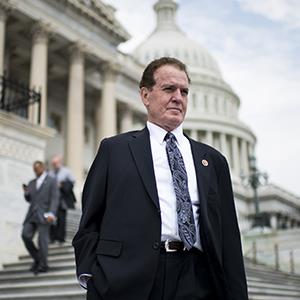 Man, Congress is a dead-end job. You're surrounded by fat-cat lobbyists making twice as much as you, you hear nothing but complaints from your constituents and you take home a measly
$174,000 a year
.
It's enough to get one Congressman, Phil Gingrey of Georgia (pictured), tied up in knots. He complained about it in a closed-door meeting Wednesday, and his comments have spread like wildfire.
Gingrey observed that poorly paid Congressional aides have a future on K Street -- a street in Washington D.C. known for the lobbying companies headquartered there.
Aides "may be 33 years old now and not making a lot of money," Gingrey said, according to two aides who
relayed his comments
to The National Review. "But in a few years they can just go to K Street and make $500,000 a year. Meanwhile I'm stuck here making $172,000 a year."
It just tugs on the heartstrings, doesn't it? Gingrey was actually off by a couple thousand. Members of Congress
have made $174,000
annually since 2009.
The median household income in Gingrey's home state of Georgia, meanwhile, is
$49,736
a year.
Gingrey's comments were first
reported by
The National Review, a conservative news publication. His words "incensed some of the GOP aides in the room," writes Jonathan Strong.
Gingrey made the comments during a discussion about an Obamacare rule requiring congressional staffers to buy their health insurance in the exchange markets. The Office of Personnel Management has said that the government can continue to contribute money to the health care premiums of Congress and their aides, but critics have deplored what they see as special treatment.
In the closed-door session, lawmakers discussed reversing the ruling. Some were uncomfortable doing so. Rep. Joe Barton of Texas said the change would cost him $12,000. "That's a burden. And it's a burden on our staff, too," he said, according to National Review Online.
And that's when Gingrey spoke out. When National Review asked him later about his comments, he said he couldn't remember exactly what he said. He said his point was that "it is completely unfair for members of Congress and Hill staffers to get this special treatment that the general public are not getting."
He added this: "I was engaged in a dialogue with some members of our conference who truly believe that Congress should get special treatment. And some also believe that staff members should get special treatment. I happen not to believe that."
DATA PROVIDERS
Copyright © 2014 Microsoft. All rights reserved.
Fundamental company data and historical chart data provided by Morningstar Inc. Real-time index quotes and delayed quotes supplied by Morningstar Inc. Quotes delayed by up to 15 minutes, except where indicated otherwise. Fund summary, fund performance and dividend data provided by Morningstar Inc. Analyst recommendations provided by Zacks Investment Research. StockScouter data provided by Verus Analytics. IPO data provided by Hoover's Inc. Index membership data provided by Morningstar Inc.
MARKET UPDATE
[BRIEFING.COM] The stock market began the new week on a cautious note. The S&P 500 lost 0.3%, but managed to erase more than half of its opening decline. Thanks to the rebound, the benchmark index reclaimed its 50-day moving average (1976.78) after slipping below that level in the morning.

Equities slumped at the open amid a couple global developments that dampened the overall risk appetite. Continued student protests in Hong Kong and a potential response from China weighed on the ... More
More Market News