Do you have the dumbest PIN in ATM history?
Having '1234' as your ID number is akin to just handing your money to a thief, according to a new study.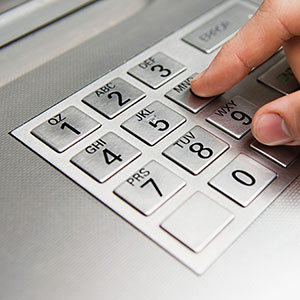 Want quick access to your cash? Just put a fat stack of it on your front stoop and place a rock atop it to prevent it from blowing away.
According to research company Data Genetics, that's about as effective and secure as making "1234" your personal identification number (PIN) for the Bank of America (BAC), Wells Fargo (WFM), Citibank (C) and other accounts you use for ATM transactions.

Data Genetics analyzed 3.4 million passwords culled from "released/exposed/dis​covered password tables and security breaches" and discovered that the Sesame Street PIN in question was the nation's most popular and least secure.
The top 10 also featured several numbers employed by Americans who presumably foil burglaries by leaving their keys in the front door and combat identity theft by posting their Social Security number on a sign on their front lawn. Because, you know, criminals are dumb and reverse psychology is foolproof:
2. 1111

3. 0000

4. 1212

5. 7777

6. 1004

7. 2000

8. 4444

9. 2222

10. 6969
Let's take a quick moment to applaud the folks using No. 10. We'll presume they still chuckle uncontrollably at this bit of junior high cleverness and have shared this pin with at least one of their fellow members of the university Greek system just for the comedic value.
Then again, that's practically Enigma code by modern standards. The study found that the 10 most common passwords accounted for more than 20% of all of passwords found. And 26.83% of all passwords could be guessed by someone trying the top 20 most popular combinations. Keep in mind, this is the national brain trust that helped make "password," "123456," and "12345678" the top three online passwords last year, according to SplashData.
Don't just blame the kids for this either. Apparently a whole lot of American adults love using a PIN beginning with 19, putting just about every adult birth year into the bad code category.
So what does the thinking American use as a PIN these days? Mostly nonsense. The top two most secure ID numbers -- guaranteed to be far less secure by this time next year -- were "8068" and "8093."
More on moneyNOW
DATA PROVIDERS
Copyright © 2014 Microsoft. All rights reserved.
Fundamental company data and historical chart data provided by Morningstar Inc. Real-time index quotes and delayed quotes supplied by Morningstar Inc. Quotes delayed by up to 15 minutes, except where indicated otherwise. Fund summary, fund performance and dividend data provided by Morningstar Inc. Analyst recommendations provided by Zacks Investment Research. StockScouter data provided by Verus Analytics. IPO data provided by Hoover's Inc. Index membership data provided by Morningstar Inc.
MARKET UPDATE
[BRIEFING.COM] The stock market finished an upbeat week on a mixed note. The S&P 500 shed less than a point, ending the week higher by 1.3%, while the Dow Jones Industrial Average (+0.1%) cemented a 1.7% advance for the week. High-beta names underperformed, which weighed on the Nasdaq Composite (-0.3%) and the Russell 2000 (-1.3%).

Equity indices displayed strength in the early going with the S&P 500 tagging the 2,019 level during the opening 30 minutes of the action. However, ... More
More Market News