'Ender's Game' movie gets an unwanted plot twist
The sci-fi film due out this fall is caught in a furor over the anti-gay views of the original book's author.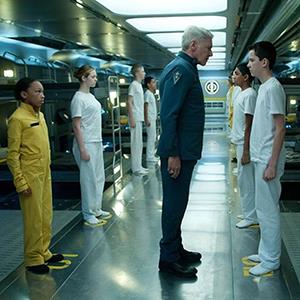 The 1985 novel "Ender's Game," considered a classic of science-fiction literature, has taken a long road to reach the cineplex. After nearly three decades, a $110 million film starring Harrison Ford will open Nov. 1, bringing the story of children taught to fight aliens known as "buggers" to moviegoers.
But now it's looking as if the toughest part of that difficult voyage might play out over the next few months. 
That's because critics are urging a boycott of the movie to protest its author's controversial political views. Orson Scott Card, a Mormon and descendent of Brigham Young, has opposed same-sex marriage and made statements urging that "laws against homosexual behavior should remain on the books." 
It's not the first time Card's views have led to problems. Artist Chris Sprouse earlier this year quit a DC Comics Superman project amid growing fan concern about the writer's political beliefs. 
A group called Geeks OUT is asking would-be moviegoers to pledge to skip "Ender's Game" as a "a clear and serious message to Card and those that do business with his brand of anti-gay activism." 
That prompted the movie's own studio, Lionsgate (LGF), to distance itself from Card, issuing a statement on Friday that the company is "proud to have recognized same-sex unions and domestic partnerships within its employee benefits policies for many years." The studio added that it "obviously" doesn't agree "with the personal views of Orson Scott Card and those of the National Organization for Marriage," a group Card has been involved with that opposes same-sex marriage, according to The Wall Street Journal. 
Complicating the issue is that GLAAD, an advocacy group for gay rights, said it reviewed an earlier copy of the script, and said it found "to our knowledge, there is no anti-gay content in the film."
The growing stigma surrounding the project might leave moviegoers with a "a vague sense that this is a movie about gay-bashing," notes science-fiction site io9. 
That just might add to the difficulties of getting bodies to fill theater seats, given that some science-fiction films (think Walt Disney's (DIS) "John Carter" and "Mars Needs Moms") have proved tough sells even without any controversies complicating the situation.

Follow Aimee Picchi on Twitter at @aimeepicchi. 

As a conservative, if I didn't go to movies or listen to music made by those with whom I disagree, I would not watch any movies or listen to any music.  However, I choose to keep an open mind and enjoy the artistic works of those I disagree with.
It is amazing how liberals are always trying to silence conservatives they disagree with while claiming to keep an open mind.

Let me tell you as the best writer in the world with a huge following of his many, many books, he could care less what you all think. People like me that love his writing will go see the movie 100 times if it's a well made movie. Your boycott will only mean you miss out on a great movie. Oh, and don't kid yourselves, those boycotting it will be in line to but it when it hits the blue-ray market.
Why is it that if someone has a different opinion that that is somehow "controversial?"  Believing that marriage is between a man and a woman isn't controversial, it's just traditional and, dare I point out, a reflection of biological reality.  Holding this viewpoint also does not make card a "homophobe" as some other critics have suggested.  

The movie looks like a thrill a minute, and worth of my $10.  I don't give a crap about all the other "who shot john" nonsense in real life, I had enough of that with Joseph McCarthy in the fifties.
I do agree with William Shatner's profound statement about all the hangers on who try to imbue their belief patterns by rallying around fictional characters:: "GET>>>A>>>>LIFE"  
Are you sure you want to delete this comment?
DATA PROVIDERS
Copyright © 2014 Microsoft. All rights reserved.
Fundamental company data and historical chart data provided by Morningstar Inc. Real-time index quotes and delayed quotes supplied by Morningstar Inc. Quotes delayed by up to 15 minutes, except where indicated otherwise. Fund summary, fund performance and dividend data provided by Morningstar Inc. Analyst recommendations provided by Zacks Investment Research. StockScouter data provided by Verus Analytics. IPO data provided by Hoover's Inc. Index membership data provided by Morningstar Inc.
MARKET UPDATE
[BRIEFING.COM] The major averages posted solid gains ahead of tomorrow's policy directive from the Federal Open Market Committee. The S&P 500 rallied 0.8%, while the Russell 2000 (+0.3%) could not keep pace with the benchmark index.

Equity indices hovered near their flat lines during the first two hours of action, but surged in reaction to reports from the Wall Street Journal concerning tomorrow's FOMC statement. Specifically, Fed watcher Jon Hilsenrath indicated that the statement ... More
More Market News