Europe finally creates more jobs
Unemployment falls for the first time since 2011, but it's a tiny improvement: More than 19 million are still out of work.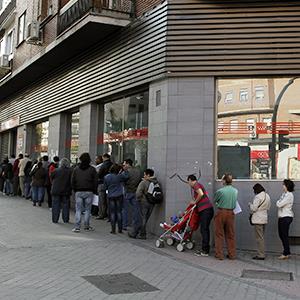 There are two ways to look at Europe's current employment situation: It should either be celebrating World Cup-style in the streets because jobless numbers are finally down, or incredibly nervous because more than 19 million Europeans are still looking for work.
Given how the eurozone has reacted since the start of the financial crisis, we're assuming they'll take the latter option. Figures from Eurostat, the EU's statistics office, indicate the number of unemployed in the 17 European Union nations that use the euro currency fell by 24,000 in June to 19.27 million. That's not much, but it's the first drop since April 2011.
Before folks even consider declaring an end to the European recession and debt crisis, it may be best to wait on next month's figures. Those are expected to show modest growth during the second quarter, thanks mainly to a rebound in Germany, Europe's economic juggernaut.
Production has stopped tailing off as well, with Spain just about ending its recession in the second quarter. There's even hope that problem child Greece could start growing again by year-end, even though its production has already decreased nearly 20%.
Even with the recent drop, however, joblessness across the region has increased by 1.13 million over the last year. It's still absolutely abysmal in the most affected countries. Spain's unemployment fell, but only from 6 million to 5.96 million. That scarcely changed the unemployment rate, which now sits at 26.3% compared to 26.4% last month.
Even though the eurozone's overall unemployment rate beat estimates, it's still at a record-high 12.1%. The rate of inflation has also stalled at 1.6%, below the European Central Bank's 2% goal. That makes the bank wary of dropping its interest rate from its record low of 0.5%.
The latest jobs numbers don't exactly reflect a pillar of stability. But for a region that has spent years with both its labor situation and finances heading in the wrong direction, they're a start.
FACT all these highly indebted nations, US included, are cheating their populations through inflation. They are doing two things; 1. the are driving down the value of their currencies which hurts everyone, 2. by creating inflation they are hoping to drive up the cost of wages so you pay more taxes and get pushed into a higher tax bracket. Tax bracket numbers do not adjust for inflation.
They are cowards who have figured out how to cheat people out of their money without having to vote for higher taxes.

New World Order will keep any improvement for the working class well out of reach.  The design is only about half way finished in Europe.  Folks have to be reprogrammed to work.  Three hour days and 3 months vacation per year all need to be rinsed out of the Euro mentality.  Takes a long time to break folks off of free money.  Any traction in jobs may look good for a moment until the Internationals just bring more stuff in from the Asian Rim and set them down abruptly.
Are you sure you want to delete this comment?
DATA PROVIDERS
Copyright © 2014 Microsoft. All rights reserved.
Fundamental company data and historical chart data provided by Morningstar Inc. Real-time index quotes and delayed quotes supplied by Morningstar Inc. Quotes delayed by up to 15 minutes, except where indicated otherwise. Fund summary, fund performance and dividend data provided by Morningstar Inc. Analyst recommendations provided by Zacks Investment Research. StockScouter data provided by Verus Analytics. IPO data provided by Hoover's Inc. Index membership data provided by Morningstar Inc.
MARKET UPDATE
[BRIEFING.COM] The stock market began the new week on a cautious note. The S&P 500 lost 0.3%, but managed to erase more than half of its opening decline. Thanks to the rebound, the benchmark index reclaimed its 50-day moving average (1976.78) after slipping below that level in the morning.

Equities slumped at the open amid a couple global developments that dampened the overall risk appetite. Continued student protests in Hong Kong and a potential response from China weighed on the ... More
More Market News