Fast-food jobs that people actually want
A number of independent chains already exceed the minimum wage and Obamacare demands. Why do they flourish as their big corporate competition frets?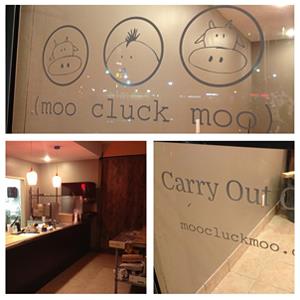 In the Detroit suburbs,
The Daily Beast's Daniel Gross
finds fast-food joint
Moo Cluck Moo
paying a starting wage of $12 an hour. In Washington state and Oregon,
The Portland Business Journal
says the
Burgerville
chain offers health care to employees working as little as 25 hours a week.
The world hasn't stopped turning and those businesses haven't been ground into dust. As bigger chains including McDonald's (MCD), Wendy's (WEN), Domino's (DPZ), Papa John's (PZZA), White Castle and others cry greasy crocodile tears over the minimum wage and the Affordable Care Act, independent chains are doing just fine by exceeding both the minimum wage and the Affordable Care Act's requirements.
So what's the key difference? Well, burgers at Moo Cluck Moo start at $3 and chicken sandwiches at $5, while a combo meal at Burgerville goes for around $10. Conversely, each chain uses fresher -- and, in some cases, organic -- ingredients than their larger counterparts. However, they also lack that pesky little ticker symbol that follows the chains listed above, which means they can make a profit without having their margins consistently pushed and prodded for more.
"We don't have a corporate overhead, and our CEO isn't making $50 million a year," Moo Cluck Moo co-owner and co-founder Harry Moorhouse told The Daily Beast. "We're much more efficient. Where we have four people on a shift, a McDonald's might have seven or eight."
Moorhouse says the living-wage movement that is seeking as much as $15 an hour for fast-food workers never affected his payroll decisions. He says he was guided by the ideal that fast food would be better with natural beef, no hormones, sunflower oil for frying and that it would be prepared better by staff who are paid better. The high starting wage has also been great advertising in a union area like the one surrounding Detroit, where The Detroit News pounced on the eatery's story earlier this year.
Burgerville, meanwhile, actually raised the bar on its health care requirement from 20 hours because some on the plan "didn't have to work very hard to be there." It also doesn't see the reduced turnover -- a third less than the overall fast-food industry -- as a negative, handing employees a "nice watch" when they hit the 15-year mark.
While naysayers shudder to think what a Big Mac would cost if worker wages increased, the fast-food chains mentioned above and others including In-N-Out Burger ($10.50 an hour starting wage) and Seattle-based Dick's Drive-In ($10 an hour to start and full benefits for those working 24 hours a week or more) suggest big-chain customers already pay too much for too little. Meanwhile, Businessweek suggests that $10.50 an hour may be the most reasonable place to start the minimum wage discussion.
The fast-food industry won't collapse if both wages and prices rise. If anything, it may just make customers and shareholder wallets a bit slimmer.
DATA PROVIDERS
Copyright © 2014 Microsoft. All rights reserved.
Fundamental company data and historical chart data provided by Morningstar Inc. Real-time index quotes and delayed quotes supplied by Morningstar Inc. Quotes delayed by up to 15 minutes, except where indicated otherwise. Fund summary, fund performance and dividend data provided by Morningstar Inc. Analyst recommendations provided by Zacks Investment Research. StockScouter data provided by Verus Analytics. IPO data provided by Hoover's Inc. Index membership data provided by Morningstar Inc.
MARKET UPDATE
[BRIEFING.COM] S&P futures vs fair value: -5.50. Nasdaq futures vs fair value: -11.80. U.S. equity futures continue holding modest losses with the S&P 500 futures down six points below fair value.

The Dollar Index began the night in the red after gaining 0.6% last week, but a steady rally off the lows has placed the index back near its flat line for the session. The dollar is currently little changed versus the yen (109.05), while the euro (1.2844) and the pound (1.6330) ... More
More Market News