Fast-food workers push for $15 an hour
Strikes and walkouts suggest they're serious, but the cost of living in some cities suggests they're asking for too little.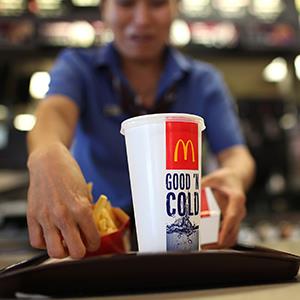 Fast-food workers are paying a high price for America's
low-cost insta-meals
, and they're increasingly tired of footing the bill.
Salon reports this week that fast-food workers in New York City staged a walkout, while workers in Chicago, St. Louis, Detroit, Milwaukee, Kansas City and Flint, Mich., went on strike. Backed by the Service Employees International Union and local advocacy groups, workers in each city had the same demands: a raise to $15 per hour and the chance to form a union without intimidation by management.
Does $15 seem steep? Maybe to billionaire Charles Koch, who notes that $34,000 a year puts American workers among the top 1% of earners in the world. But that's not even enough to eke out a living in the cheapest corners of America.
The fast-food labor fight began last November with a strike by about 200 employees of various chains in New York City. Over the past four months, that walkout has been followed by similar work stoppages in five other cities, plus a second New York City strike roughly twice as large.
The fast-food industry, however, isn't budging. It has been extremely reluctant to give its full-time workers the benefits mandated by the Affordable Care Act, never mind a more than 100% raise. Domino's (DPZ) vice president Tim McIntyre told Salon that "opportunity exists for everyone in our system who's willing to work hard and focus on rising to the next level."

Despite similar assertions from McDonald's (MCD) chief executive Don Thompson, the evidence says otherwise. According to a new study by the National Employment Law Project, nearly 90% of all fast-food jobs belong to cooks, cashiers, delivery workers and other nonmanagerial workers. By comparison, 31% of jobs in other U.S. industries are above entry level.
As NELP pointed out to The Huffington Post, front-line fast-food jobs pay a median hourly wage of $8.94 and workers stay in those positions for years at a time with scant opportunity for advancement. Only 2% of fast-food industry jobs are held by the executives Thompson used as examples.
It's a similar case nationally, with 4.3 million people holding the country's most popular job, the $25,000-a-year position of retail salesperson. While cashiers come in second with 3.3 million U.S. jobs, they include fast-food workers fueling an economy in which roughly 65% of the 5.7 million jobs added since the recession have been low-wage.
So why pay those workers $15 an hour? Because even that's getting off cheaply, depending on the city. In Montgomery County, Md., just outside of Washington, D.C., where the cost of living is highest, a worker needs a minimum wage of $23.65 to achieve economic stability. When Washington, D.C., suggested that Wal-Mart (WMT) should pay its lowest-tier employees little more than half that -- $12.50 an hour -- the chain threatened to pull six planned stores from the city.

Chances are we haven't seen the last walkout by fast-food workers.

DATA PROVIDERS
Copyright © 2014 Microsoft. All rights reserved.
Fundamental company data and historical chart data provided by Morningstar Inc. Real-time index quotes and delayed quotes supplied by Morningstar Inc. Quotes delayed by up to 15 minutes, except where indicated otherwise. Fund summary, fund performance and dividend data provided by Morningstar Inc. Analyst recommendations provided by Zacks Investment Research. StockScouter data provided by Verus Analytics. IPO data provided by Hoover's Inc. Index membership data provided by Morningstar Inc.
MARKET UPDATE
[BRIEFING.COM] The stock market finished the Tuesday session on the defensive after spending the entire day in a steady retreat. The S&P 500 (-0.6%) posted its third consecutive decline, while the small-cap Russell 2000 (-0.9%) slipped behind the broader market during afternoon action.

Equity indices were pressured from the start following some overnight developments that weighed on sentiment. The market tried to overcome the early weakness, but could not stage a sustained rebound, ... More
More Market News