Fired Groupon CEO sings out his sorrow
Andrew Mason deals with his setback by making a 7-track album of inspirational business songs. Seriously.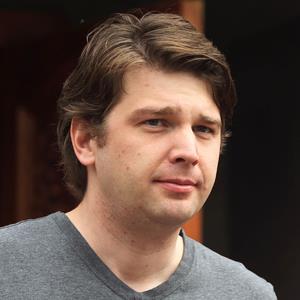 Andrew Mason (pictured) may have successfully created a new music subgenre. Its only fans may be "American Psycho" character Patrick Bateman, Hawaiian-shirted executives at Jimmy Buffett shows and office drones from the '80s, but it's a subgenre nonetheless.
The Groupon (GRPN) co-founder and its recently ousted chief executive just released a seven-song motivational album that blends country, hip-hop and gospel into the colorful, varied soundscape that only a leader canned by shareholders for being too fratty could produce.

For those nearly 650 Groupon workers laid off during Mason's beer swilling, gaffe spewing reign of terror, don't worry: For just $9.99 on Apple's iTunes or Spotify, cool uncle Andy will make it all better with a song.
Using the time and, presumably, the $378.36 he had available after being booted from Groupon in February, Mason took to the studio and began crafting the album now known as "Hardly Workin'." He hired producer Don Gehman, who has worked with John Mellencamp and Crosby, Stills, Nash & Young, to oversee the project and, for those doubting his commitment, issued a statement on his blog Tuesday enumerating the project's merits.
"Executives, mid-level management, and front-line employees are all sure to find valuable takeaways," Mason says. "I've probably listened to the album over a dozen times now, and with each spin I feel like I learn something."
Early reviews suggest the key lesson of "Hardly Workin'" is to never buy a vanity-project album from a businessman going through an early mid-life crisis. Seth Fiegerman at Mashable charitably notes that Mason still has enough talent to take on any project he wants, but "for his sake and ours, though, we hope that means something other than a music career."

New York magazine's Kevin Roose was less forgiving, but had to endure all seven tracks of the "Raffi-meets–Jack Welch" album to support his song-by-song analysis. That includes Mason's ode to his Chicago commute, "The Way To Work," and his rap track "Stretch" -- for which Mason called in guest lyricist Bishop Lamont to witness him rhyme "hunger" with "Charlie Munger."
His efforts amount to tee ball for music critics -- and a party soundtrack for Groupon shareholders who've seen their stock value double since Mason was fired -- but we're honestly hoping it doesn't stop here.
Maybe it'll inspire JP Morgan Chase (JPM) chief Jamie Dimon to release a hip-hop mixed tape under the name Jamie Diamond. Maybe Warren Buffett's talks with Jay-Z will inspire the Berkshire Hathaway (BRK.A) head to lay down some tracks as Warren B. How about a business-skewed version of Warren G's "Regulate" arguing for tighter corporate tax levies and restrictions on CEO pay, with blogger Nate Silver filling in for the late Nate Dogg and backing up Buffett with some charts and lyrical analysis?
As Mason proves, all you need is a song in your heart and a modicum of notoriety to set your soul's quarterly earnings report to music.
DATA PROVIDERS
Copyright © 2014 Microsoft. All rights reserved.
Fundamental company data and historical chart data provided by Morningstar Inc. Real-time index quotes and delayed quotes supplied by Morningstar Inc. Quotes delayed by up to 15 minutes, except where indicated otherwise. Fund summary, fund performance and dividend data provided by Morningstar Inc. Analyst recommendations provided by Zacks Investment Research. StockScouter data provided by Verus Analytics. IPO data provided by Hoover's Inc. Index membership data provided by Morningstar Inc.
MARKET UPDATE
[BRIEFING.COM] Precious metals are trading lower this morning. Dec gold brushed a session low of $1212.50 in recent action and is now down 0.2% at $1214.60. Dec silver traded as low as $12.57 but has been inching higher in recent trade. It is currently at $17.71, or 0.8% lower.

Nov crude oil pulled back from its session high of $91.82 set at pit trade open and is slipping deeper into negative territory. It touched a LoD of $90.77 and is currently down 0.9% at $90.86.

Oct natural ... More
More Market News