Fliers threaten to name food stamp recipients
An anonymous antagonist in Portland, Ore., is targeting them as a drain on taxpayers. The same person has challenged the disabled as well.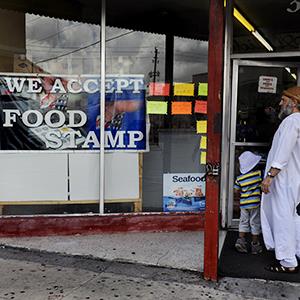 Trolls don't live exclusively on Internet comments fields.
Occasionally, they like to go out into the real world and cause grief just because they can. In Portland, Ore., occasionally someone carries a rifle, straps on some armor and forces the closure of the Burnside Bridge across the Willamette River for 45 minutes. On other occasions, people will openly carry AR-15 rifles through Southeast Portland just to "educate" people that doing so is legal.
More recently, however, an anonymous individual has been distributing fliers in Southeast Portland threatening to expose the identities of people in that neighborhood who are receiving disability payments. The individual has since shifted his or her attention to people receiving food stamps. The fliers -- signed only by "Artemis of the wildland," a woeful misreading of the Greek deity and "mistress of the animals" who appears in Homer's "The Illiad" -- read as follows:
"There are twenty seven people in this neighborhood who vote and receive food stamps. The names of these people are being posted where they can be seen by taxpayers and the neighborhood can decide who is truly in need of food."
This course of action has just a few problems, beyond the obvious trolling. First off, despite what "Portlandia" may tell you, Oregon is a fairly poor state in which 21% of the population is enrolled in the food stamp program (officially called the Supplemental Nutrition Assistance Program, or SNAP), according to the Department of Agriculture. That's well above the 15% national average and trails only Mississippi's 22%. With that usage so widespread, comparatively affluent Southeast Portland represents a small fraction of the state's food stamp recipients.
Second, public shaming has a nasty habit of backfiring in spectacular fashion. Remember when the Journal News in New York's Westchester County ran a map of all the permitted gun owners in its coverage area just because it could? The ensuing backlash drove home the fact that, even when it's a matter of public record, folks don't like having perfectly legal portions of the private lives placed on display without their permission.
Finally, there's the greater question of the legality of what the flier distributor is threatening. Portland police say it's not likely the person behind the fliers has committed a crime yet, but the U.S. Department of Agriculture says the follow-through would cross the line.
"Names of recipients are not public records," Brooke Hardison, a spokeswoman for the USDA, told The Huffington Post. "Such information is only to be used for administration and enforcement of the program."
If the troll's only goal was to make enemies and be almost universally hated, then bravo on the world-class trolling. Portland Mayor Charlie Hales' office and the Portland police are now tracking the fliers with the public's help.
The residents of typically laid-back Southeast Portland have been almost unanimously disapproving in their responses. "To just use a broad brush and put every single person's name up there without really investigating any of the situations," resident Lauren Davidson told CBS affiliate KFVS, "I don't think that's right."
DATA PROVIDERS
Copyright © 2014 Microsoft. All rights reserved.
Fundamental company data and historical chart data provided by Morningstar Inc. Real-time index quotes and delayed quotes supplied by Morningstar Inc. Quotes delayed by up to 15 minutes, except where indicated otherwise. Fund summary, fund performance and dividend data provided by Morningstar Inc. Analyst recommendations provided by Zacks Investment Research. StockScouter data provided by Verus Analytics. IPO data provided by Hoover's Inc. Index membership data provided by Morningstar Inc.
MARKET UPDATE
[BRIEFING.COM] The stock market finished the Tuesday session on the defensive after spending the entire day in a steady retreat. The S&P 500 (-0.6%) posted its third consecutive decline, while the small-cap Russell 2000 (-0.9%) slipped behind the broader market during afternoon action.

Equity indices were pressured from the start following some overnight developments that weighed on sentiment. The market tried to overcome the early weakness, but could not stage a sustained rebound, ... More
More Market News