Flight fight: Airlines battle to sell $1,000 tickets
Coast-to-coast routes can generate huge profits, and carriers are rolling out the perks to attract high-paying passengers.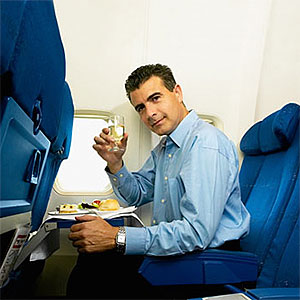 If you live between the two U.S. coasts, you might feel miffed at how the major airlines are treating you. Along with offering fewer flights, some carriers are also cutting back or even ending service to some of the smaller airports in "flyover country" as part of their recession-induced contraction strategies.
But hey, don't take it personally. As said in "The Godfather," it's just business. In fact, recent reports show that two specific air routes -- running between the metro New York area and either Los Angeles or San Francisco -- are major moneymakers for airlines providing service to those cities.

Carriers are competing bitterly with each other for passengers on those lucrative flights, especially in business and first class.
In his "Seat 2B" blog at BizJournals.com, Joe Brancatelli provides some compelling statistics. The route between Los Angeles International Airport and John F. Kennedy International Airport in New York is the busiest in the U.S, he says, carrying about 3.2 million passengers who annually generate about $1.4 billion in sales. A close second is the New York-San Francisco route, with an estimated 2 million passengers yearly.
The Wall Street Journal's Middle Seat blog quotes government data showing that 9% of American Airlines (AAMRQ) passengers on New York-to-Los Angeles flights last year paid more than $1,000 for their tickets -- and that 9% of passengers produced 45% of the $202 million in revenue in that market. United (UAL) charged nearly 14% of its Los Angeles-to-New York passengers more than $1,000 per ticket -- and those customers made up 58% of the carrier's $101 million in revenue for that market.
JetBlue (JBLU) recently entered the fray, announcing some premium seating on its New York-to-Los Angeles and New York-to-San Francisco flights starting next year.
Any upside to this news for those of us not currently traveling coast to coast? Well, Brancatelli says, "eventually, product and service innovations that debut on the (transcontinental routes) trickle down to routes that serve the flyover skies."
And there's a bit of irony as well, he says. As American, JetBlue and other airlines install larger luxury seats to woo the "transcon" fliers, they're reducing overall passenger capacity on their planes -- which in turn will probably mean higher overall fares.
"I'm already paying about twice as much as I used to," Susan Sonimal, a New Yorker who files to San Francisco on business twice a month, told Brancatelli. "Now I'll be asked to pay a fortune to fly up front or pay more and get less back in coach."

Flying sucks and I avoid it if possible.  It's too expensive, too crowded, too cramped and too much of a pain in the butt.  You gotta drive to the airport, stand in line, go through security, wait around at the gate, wait again for a layover, wait to claim your luggage and then drive/ride to where you're going.  If your destination is up to 10-12 hours away by car, it's usually cheaper and more convenient to drive.


One thing that is never mentioned is the AIR FREIGHT that is also in the Luggage / Cargo hold
All the major service providers  FED-EX //UPS///USPS   use the carriers (AIRLINES) as a secondary method of transport
The profit level for both are high,and are rarely mentioned.
If you have a small parcel that has to be moved from J F K  to L A  during the day it is moved as an    N F O (NEXT FLIGHT OUT) and gets better attention than most passengers. 
As you can imagine the price tag is a HEFTY ONE ,for both carrier and provider
SHOW ME THE  $$$$$$$$$$

I am a retired airline employee. Airline marketing ALWAYS depended on the business traveler for the majority of their profit. A-lot of businesses now though want their employees to travel on cheap restricted coach tkts. This is no fun at all for the business person, especially if changes need to be made after ticketing, which involves penalties and/or increased fares. People asked me over the years why the airlines don't just charge one fare for everybody. The reason is that this doesn't work at all. Airlines that tried this scheme did not last long. EG People Express, Laker, Air Florida, New York Air and others. The worst thing now-a-days, I think, is the amount of rude, impatient people who think that the world must revolve around them. Just my opin.   

The only time we fly is because it is necessary .  That is about 2 times a year.  We almost always drive.  For the 2 of us it turns out to cost less. Takes more time, if it is possible try to plan.  Even with motels and food it is much nicer. No hassle with the Airlines no delays.  You can stop whenever you want.  The reason I fly is because I have to travel from Europe and back. I always take a European carrier. The cost isn't much different. The hassle isn't quite as bad. 
Are you sure you want to delete this comment?
DATA PROVIDERS
Copyright © 2014 Microsoft. All rights reserved.
Fundamental company data and historical chart data provided by Morningstar Inc. Real-time index quotes and delayed quotes supplied by Morningstar Inc. Quotes delayed by up to 15 minutes, except where indicated otherwise. Fund summary, fund performance and dividend data provided by Morningstar Inc. Analyst recommendations provided by Zacks Investment Research. StockScouter data provided by Verus Analytics. IPO data provided by Hoover's Inc. Index membership data provided by Morningstar Inc.
MARKET UPDATE
[BRIEFING.COM] The stock market finished an upbeat week on a mixed note. The S&P 500 shed less than a point, ending the week higher by 1.3%, while the Dow Jones Industrial Average (+0.1%) cemented a 1.7% advance for the week. High-beta names underperformed, which weighed on the Nasdaq Composite (-0.3%) and the Russell 2000 (-1.3%).

Equity indices displayed strength in the early going with the S&P 500 tagging the 2,019 level during the opening 30 minutes of the action. However, ... More
More Market News