For women, it's a low-wage recovery
While females have found jobs at a faster rate than men, the work is mainly in industries like restaurants where pay is paltry.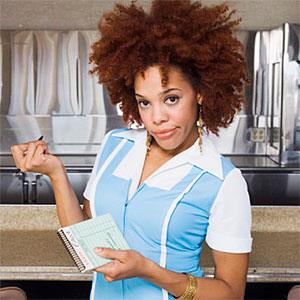 On the face of it, women are in a better place than men as the economy continues its recovery. After all, the unemployment rate for females 20 and older was 6.3% in August, lower than the 7.1% rate for men.

But the rate isn't all that it seems. That's because the job gains have largely come through low-paying work, such as waitressing, housekeeping and food preparation, reports Bloomberg.
From 2009 to 2012, roughly 60% of the job gains for women stemmed from work paying less than $10.10 an hour, Bloomberg notes, citing data from the National Women's Law Center. By comparison, only 20% of job creation for men stemmed from low-paying work. 
One reason women are taking low-paying jobs is the disappearance of higher-paying public sector jobs, such as teaching. Since 2009, about 444,000 public sector jobs have been lost to women, while men have shed 290,000. 
Women "are taking jobs as baristas in Starbucks and other jobs that used to go to people without college degrees," Joan Entmacher, vice president for family economic security, told Bloomberg. "It's an anecdote but it's also a fact."
Women on average still earn 77 cents to every dollar men earn, according to new data released by the Census Bureau on Tuesday.
But the pay disparity isn't the same in every state, notes Forbes. Women in Nevada, for instance, earn 85 cents to every dollar earned by men, one of the narrowest gaps in the country. 
The reason for Nevada's closer income parity? Casino work, which has tended to have strong union representation.
"A blackjack dealer's a blackjack dealer," Lisa Maatz, the policy director for the American Association of University Women, told Forbes. "Unions have always been very good for women in terms of getting their wages and benefits up to par."
The worst state for women's earning power is Wyoming, where female employees earn 64 cents on each dollar earned by men. Other low-paying states for women are Louisiana (67 cents), West Virginia (70 cents), Utah (70 cents) and Alabama (71 cents). 
While some critics say the pay disparity is due to women simply working in lower-wage sectors, such as child care, researchers still find pay gaps where women and men are in the same job. Female doctors, for instance, make $56,000 less per year than their male counterparts, The Journal of the American Medical Association found. 
For women, the disparity is more than discouraging. It also has a long-term impact on retirement savings, Social Security benefits and lifetime earnings. 
Follow Aimee Picchi on Twitter at @aimeepicchi.
DATA PROVIDERS
Copyright © 2014 Microsoft. All rights reserved.
Fundamental company data and historical chart data provided by Morningstar Inc. Real-time index quotes and delayed quotes supplied by Morningstar Inc. Quotes delayed by up to 15 minutes, except where indicated otherwise. Fund summary, fund performance and dividend data provided by Morningstar Inc. Analyst recommendations provided by Zacks Investment Research. StockScouter data provided by Verus Analytics. IPO data provided by Hoover's Inc. Index membership data provided by Morningstar Inc.
MARKET UPDATE
[BRIEFING.COM] The stock market welcomed the new trading week with a mixed session that saw relative strength among large-cap stocks, while high-beta names underperformed. The Dow Jones Industrial Average (+0.3%) and S&P 500 (-0.1%) finished near their flat lines, while the Nasdaq Composite and Russell 2000 both lost 1.1%.

Equities began the day on a cautious note amid continued concerns regarding the strength of the global economy. Over the weekend, China reported its first decline ... More
More Market News