Ford to hire 800 workers in Michigan
The company is also launching a recruiting campaign focused on social media to reach people who might not have considered working for an automaker.
The industry that built Detroit may give it another boost soon.
Ford Motor Company (F) has announced it will hire 800 white-collar salaried workers, CNBC's Phil LeBeau reported Tuesday. Most of the positions will be at Ford headquarters in Dearborn, Mich., which neighbors Detroit.
Most of the new employees will work in vehicle development, LeBeau said.
"Ford is expanding its vehicle development work in Michigan even though a lot of this work is going to be applied around the world," he said. "They're going to be focusing on next-generation technologies."
Ford and other automakers should not suffer a "hangover effect" in terms of recruiting after the economic troubles in Detroit, LeBeau said. The city filed for Chapter 9 bankruptcy protection last week, the biggest municipal bankruptcy in history. Detroit's unemployment rate is 16.3%.
"Those companies are so strong and the pool of talent is so great in Detroit area when it comes to the auto industry they should be OK," he said.
The company's size has fluctuated significantly since chief executive Alan Mulally took over in September 2006. It had 264,000 employees worldwide that year and, according to LeBeau, was "really a bloated company."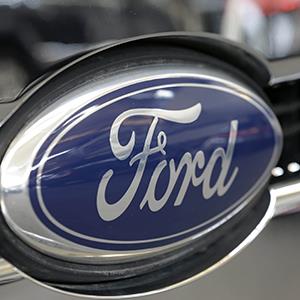 Ford shut down brands and shrunk to 158,000 employees in 2009. It has since grown about 10.7% to 175,000 employees in 2013.
Ford is launching a recruiting campaign focused primarily on such social-media sites as Facebook and Twitter, LeBeau said. Its goal is to reach people who historically have not thought about working for an automaker.
CNBC's Kelly Evans asked whether Ford could do something for Detroit. LeBeau said the company would likely answer that it already does.
"It's not like they're going to move right downtown," LeBeau said. "Dearborn has been their home right from the beginning. So I think their answer is, 'We do something for the greater Detroit area.'"
LeBeau called Tuesday "a big day for Ford." He also noted that the company will give its second-quarter earnings report Wednesday morning. "A big part of that will be the growth in North America," he added.

LeBeau said to look for huge numbers -- around $2.3 billion -- when it comes to profitability in North America.
DATA PROVIDERS
Copyright © 2014 Microsoft. All rights reserved.
Fundamental company data and historical chart data provided by Morningstar Inc. Real-time index quotes and delayed quotes supplied by Morningstar Inc. Quotes delayed by up to 15 minutes, except where indicated otherwise. Fund summary, fund performance and dividend data provided by Morningstar Inc. Analyst recommendations provided by Zacks Investment Research. StockScouter data provided by Verus Analytics. IPO data provided by Hoover's Inc. Index membership data provided by Morningstar Inc.
MARKET UPDATE
[BRIEFING.COM] The stock market began the new week on a cautious note. The S&P 500 lost 0.3%, but managed to erase more than half of its opening decline. Thanks to the rebound, the benchmark index reclaimed its 50-day moving average (1976.78) after slipping below that level in the morning.

Equities slumped at the open amid a couple global developments that dampened the overall risk appetite. Continued student protests in Hong Kong and a potential response from China weighed on the ... More
More Market News