Forget the stereotype of teenage burger flippers
Turns out that 40% of fast-food employees are older than 25, while 25% have children.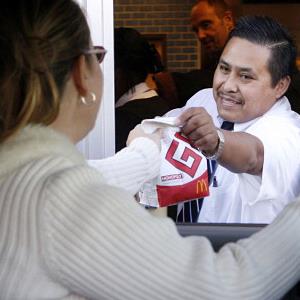 If you're asked to picture a fast-food worker, chances are you'll think of a teenager flipping burgers, standing at the grill or handling orders as a way to make some extra spending money. 

But the reality of today's fast-food workers is a far cry from that outdated image, according to a study from the liberal-leaning Center for Economic and Policy Research, which looked through the most recent census data to get a picture of today's restaurant workforce.
While the workers do tend to be young, the biggest group is old enough to vote, rent a car and legally buy a drink. Forty percent of fast-food workers are 25 or older, with an additional 30% between 20 and 24, the group found. Just 30% are actually teenagers. 
It's not surprising, then, 25% of workers are raising at least one child. And among fast-food workers over 20, more than a third are raising children. 
Even more startling, more than 70% of all fast-food workers hold a high school degree, while about a third have some college education. 
The findings undermine the argument that fast-food workers deserve rock-bottom wages because, after all, they're just teenagers earning a little spending money while living at home.
No wonder fast-food workers from McDonald's (MCD) and other chains are protesting in support of $15 hourly wages, more than double the current federal baseline minimum of $7.25 per hour (if they lived in Australia, $15 an hour is about what they'd be starting at).
It's not easy to make a living on minimum wage, something that McDonald's acknowledged when it offered financial advice to its workers. The company's main point? Get two jobs to make ends meet. 
Today's minimum wage buys less than in previous eras, according to the Economic Policy Institute. The minimum wage in 1968, for example, would equate to an annual salary in today's dollars of $17,080 per year. But at today's federally mandated baseline pay, workers pull in just $15,080 annually. 
While fast-food workers' pay has stagnated, profits at McDonald's aren't exactly hurting. Second-quarter net income rose by 4% to almost $1.4 billion. 
Fast-food workers have good reason for not exactly lovin' it. 
Follow Aimee Picchi on Twitter at @aimeepicchi.
DATA PROVIDERS
Copyright © 2014 Microsoft. All rights reserved.
Fundamental company data and historical chart data provided by Morningstar Inc. Real-time index quotes and delayed quotes supplied by Morningstar Inc. Quotes delayed by up to 15 minutes, except where indicated otherwise. Fund summary, fund performance and dividend data provided by Morningstar Inc. Analyst recommendations provided by Zacks Investment Research. StockScouter data provided by Verus Analytics. IPO data provided by Hoover's Inc. Index membership data provided by Morningstar Inc.
MARKET UPDATE
[BRIEFING.COM] The stock market finished the Tuesday session on the defensive after spending the entire day in a steady retreat. The S&P 500 (-0.6%) posted its third consecutive decline, while the small-cap Russell 2000 (-0.9%) slipped behind the broader market during afternoon action.

Equity indices were pressured from the start following some overnight developments that weighed on sentiment. The market tried to overcome the early weakness, but could not stage a sustained rebound, ... More
More Market News