Fraternities and sororities flex their political muscle
Their lobby group, known as FratPAC, is wielding influence on Capitol Hill to advance the collegiate social system's interests.
Think fraternities and sororities are an outdated part of America's colleges and universities? Think again.
Bloomberg reports membership in so-called Greek letter organizations has been blooming for a while now. In fact, the national fraternities and sororities have enough economic muscle to have their own lobbying group on Capitol Hill -- called, not surprisingly, FratPAC. It has been working to find tax breaks while combating national hazing penalties.
But FratPAC is running into opposition from the families of dozens of students who have died in the past decade or so during frat-related hazing or binge drinking events.
North America has more than 100 sororities and fraternities, with membership in the national organizations topping 630,000 last year, up 25% from 2007.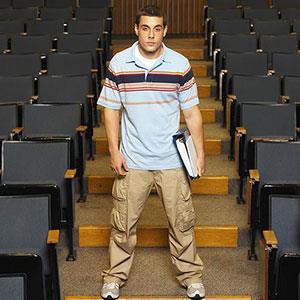 According to Bloomberg, the national frats and their charitable foundations had $170 million in revenue in 2010 -- mostly from student dues -- while fraternity foundations held $534 million.
The "Greek community" likes to point out its members do well both on campus and after graduation. The North American Interfraternity Conference says half of all top 10 Fortune 500 CEOs came out of the system. Forty-four percent of U.S. presidents have also been members of a social fraternity, while in the current 113th Congress, 39% of senators and 24% of representatives were in Greeks.
So it's not too amazing that FratPAC is getting good face time with lawmakers in Washington, D.C. The group's call for tax breaks dates back to a deadly 1996 fraternity house fire at the University of North Carolina. After that incident, fraternity and sorority organization began to lobby for a federal law that would allow them to use their charitable funds to retrofit their houses with fire sprinkler systems.
FratPAC is also using its leverage to campaign against a federal bill first proposed in late 2011 by Rep. Frederica Wilson, D-Fla., to stop hazing on campus. Bloomberg says FratPAC has "dissuaded" Wilson from filing the legislation.
Since its establishment in 2005, FratPac has contributed $818,000 to congressional political campaigns. Some of its largest contributions, according to Bloomberg, have gone to Capitol Hill supporters of its tax-break initiative.

"...half of all top 10 Fortune 500 CEOs came out of the system. Some 44% of U.S. presidents have also been members of a social fraternity.."

I suspect this has more to do with wealth than being in a fraternity. Students from wealthy families are more likely to "go Greek," and wealthy families are well connected.


Wow, such bitterness.  I thought it sounded like good news.  Fighting for student rights.  I know a lot of "greeks" still after 20 years removed from the UW and all are upstanding citizens.   Not all rich or in politics, but good solid people.
Maybe you all should stop stereotyping what you obviously know nothing about.  :)
My two cents....
ABSOLUTELY... Let's get some political direction from people who are willing to sign up for a credit card with an annual fee just to get a tee shirt. Instead, let's un-PAC America and terminate life for the unwilling (because PACs kill). Groups give the weak a voice that rarely aligns with the majority, and never take responsibility for driving us to ruin after they force us to adhere to their paid-for legislation.
Are you sure you want to delete this comment?
DATA PROVIDERS
Copyright © 2014 Microsoft. All rights reserved.
Fundamental company data and historical chart data provided by Morningstar Inc. Real-time index quotes and delayed quotes supplied by Morningstar Inc. Quotes delayed by up to 15 minutes, except where indicated otherwise. Fund summary, fund performance and dividend data provided by Morningstar Inc. Analyst recommendations provided by Zacks Investment Research. StockScouter data provided by Verus Analytics. IPO data provided by Hoover's Inc. Index membership data provided by Morningstar Inc.
MARKET UPDATE
[BRIEFING.COM] The stock market began the new trading week on the defensive note with small-cap stocks pacing the retreat. The Russell 2000 (-1.4%) and Nasdaq Composite (-1.1%) displayed relative weakness, while the S&P 500 lost 0.8% with all ten sectors ending in the red.

Global equities began showing some cracks overnight after China's Finance Minister Lou Jiwei poured cold water on hopes for new stimulus measures. Specifically, Mr. Lou said the government has no plans to change ... More
More Market News