From wildfires to wood stoves, smoke is a killer
In the US and worldwide, inhalation of burned particulates has serious long-term health and financial costs.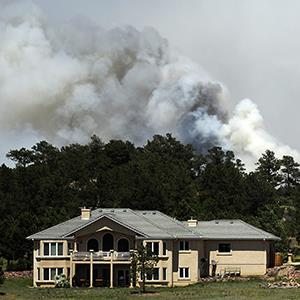 As the country tries to absorb the shocking tragedy of 19 elite firefighters dying in an Arizona forest blaze on Sunday, it's an unspeakably difficult time in what was already a deadly fire season across many parts of the U.S. West this year.

While the loss of life on any scale is what deservedly gets our attention, wildfires can have other, less visible effects on life and health. Indeed, in those areas where wildfires have raged this year, you couldn't go outside without seeing, smelling and inhaling smoke.
And even though a variety of studies have examined the direct economic costs caused by wildfires, a growing scientific -- and financial -- interest involves another costly threat: wood smoke pollution, caused not only by wildfires but also by wood-burning stoves and fireplaces.
About half the world still cooks food daily on open fires or with very basic "biomass" stoves, which use wood, charcoal, agricultural residue, animal dung and other solid organic fuels. And along with the threat those practices pose for deforestation, the World Health Organization says indoor air pollution from wood smoke is one of the leading causes of death and disease in the developing world, due to respiratory infection.
"Generally countries can't elevate their GDP until they have a healthy population," Kevin Harrod, the director and scientist at the Lovelace Respiratory Research Institute in Albuquerque, N.M., tells MSN Money. "If the population isn't healthy, they can't claw their way out of poverty." LRRI recently received a grant of nearly $1 million dollars from the Bill & Melinda Gates Foundation to study the adverse health effects of wood smoke.
An international effort underway by researchers, entrepreneurs, aid groups and others to come up with a cleaner and more efficient biomass stove for the developing world. One example is the Eco Fire Pot Stove, which can use a variety of different fuels and can be made locally out of scrap metal, clay or bricks.
"The UN estimates that around 1.4 million women and children die each year because of inhaling fumes from wood or solid biomass burning in traditional cook stoves," the stove's inventor, Sierra Leone native Adama Kamara, told Gizmag.com. "I believe that women should not be given a death sentence because they can only afford to use solid biomass fuels for cooking in traditional cook stoves."
And if you think this is just a Third World problem, think again. The EPA estimates that about 10 million wood stoves are currently in use in the U.S., most of them of the older, ineffective and heavily polluting variety. And at the Burning Issues website, which looks at the effects of particulate pollution caused by smoke, a researcher recently estimated about 30,000 premature deaths in the U.S. annually were traceable to wood smoke.


For the better part of four months while working on the island of Borneo in East Malaysia, I inhaled wood smoke 24/7 (the buildings are porous!). The smoke came from nearby Indonesia where slash from clearing forests for palm plantations was being burned. The locals accepted the euphemistic term, "the haze", a government-inspired name designed to placate them. it was, unfortunately, a yearly event, which I again experienced the next year. The government also wrongly blamed primitive farmers for the situation.

My brother was a fs smokejumper for nine seasons ending in 1975 and so far he has no ill affects from his job...all they had were soaked bandannas-no respirators.   Some cities have banned fireplaces at times, such as Missoula, Montana. My grandparents had a fireplace and a wood burning stove during the chilly inland s. California mornings for us.  So far none of us were affected...both parents were asthmatics. 
Are you sure you want to delete this comment?
DATA PROVIDERS
Copyright © 2014 Microsoft. All rights reserved.
Fundamental company data and historical chart data provided by Morningstar Inc. Real-time index quotes and delayed quotes supplied by Morningstar Inc. Quotes delayed by up to 15 minutes, except where indicated otherwise. Fund summary, fund performance and dividend data provided by Morningstar Inc. Analyst recommendations provided by Zacks Investment Research. StockScouter data provided by Verus Analytics. IPO data provided by Hoover's Inc. Index membership data provided by Morningstar Inc.
MARKET UPDATE
[BRIEFING.COM] The stock market finished an upbeat week on a mixed note. The S&P 500 shed less than a point, ending the week higher by 1.3%, while the Dow Jones Industrial Average (+0.1%) cemented a 1.7% advance for the week. High-beta names underperformed, which weighed on the Nasdaq Composite (-0.3%) and the Russell 2000 (-1.3%).

Equity indices displayed strength in the early going with the S&P 500 tagging the 2,019 level during the opening 30 minutes of the action. However, ... More
More Market News