Furniture sponsor takes pity on Paula Deen
Universal Furniture will still market the celebrity chef's line, but acknowledges many dealers aren't happy about the branding.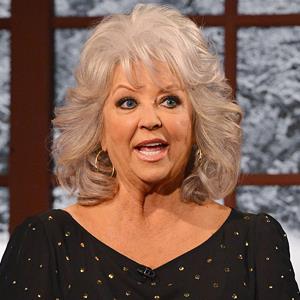 Well, it's official: The Paula Deen saga has reached the pity stage.
The celebrity chef faced accusations that she abused power while running her cooking empire. Deen faced public scorn and ridicule after a deposition in which she admitted to using racial slurs, doubled down on that admission by tacking on an "of course" and expressed a desire to have black waiters serve guests at a wedding "Southern plantation-style."

She then faced severe consequences for that admission and lost her Food Network show and deals with Wal-Mart (WMT), JCPenney (JCP), Target (TGT), Home Depot (HD) and QVC, while her namesake merchandise developed a fine layer of dust sitting in the warehouses of manufacturers stuck with it.
Now her remaining sponsors are digging in, but not out of a sense of outright support. The publisher of Deen's biographical comic book is going ahead with it, but only because the books are just about done, contain references to her fall from grace and are being sold to raise money for charity. Universal Furniture International, however, is sticking with Deen for the most depressing reason of all: Because it feels sorry for her.
The High Point Enterprise reports that the North Carolina furniture maker will continue to market the Paula Deen Home Collection. Universal Furniture head Jeff Scheffer diplomatically expressed the company's sympathy toward Deen's plight.
"Obviously, we feel terrible for Paula. The Paula we know -- and the one I believe you have gotten to know -- is not the same person as the one being portrayed in the media," said Jeff Scheffer, the top executive at Universal, in a letter to its retailers released Thursday afternoon.

"We have observed her as being kind and one who treats those around her with respect," he added. "Yes, she has acknowledged saying some hurtful things but she has also apologized, and we accept that. We also feel equally dismayed for those hurt by Paula's remarks, which for certain do not represent our own diverse culture and beliefs at Universal."
That last part has made Universal Furniture's third-party sellers just a bit more upset than the furniture makers. For as many letters of support his company received, Scheffer acknowledges that some sellers have removed all references to Deen from displays featuring her furniture. Universal Furniture doesn't seem keen on taking either side of this argument, with Scheffer noting that her furniture has "become a rallying cry for some and a lightning rod for others."
The problem is that Universal still has a bunch of it kicking around, and it's not as easy to rebrand as, say, a jar of spices or a cooking set. The company also never said anything about making more of Deen's namesake furniture, just that it would continue to market what's already in stock. Even at the end of his statement, Scheffer sounded less like a Deen fan and more like a man with some furniture to sell.
"What everyone seems to agree on," he says, "is that the product design is strong and her collections continue to sell well."
DATA PROVIDERS
Copyright © 2014 Microsoft. All rights reserved.
Fundamental company data and historical chart data provided by Morningstar Inc. Real-time index quotes and delayed quotes supplied by Morningstar Inc. Quotes delayed by up to 15 minutes, except where indicated otherwise. Fund summary, fund performance and dividend data provided by Morningstar Inc. Analyst recommendations provided by Zacks Investment Research. StockScouter data provided by Verus Analytics. IPO data provided by Hoover's Inc. Index membership data provided by Morningstar Inc.
MARKET UPDATE
[BRIEFING.COM] The stock market began the new week on a cautious note. The S&P 500 lost 0.3%, but managed to erase more than half of its opening decline. Thanks to the rebound, the benchmark index reclaimed its 50-day moving average (1976.78) after slipping below that level in the morning.

Equities slumped at the open amid a couple global developments that dampened the overall risk appetite. Continued student protests in Hong Kong and a potential response from China weighed on the ... More
More Market News