Gettysburg welcomes an invasion of visitors
The 150th anniversary of the historic Civil War battle is bolstering the region's vital tourism industry.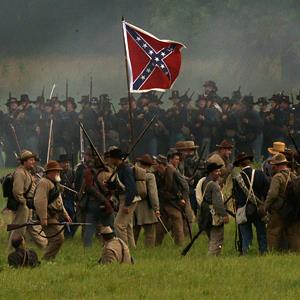 You really can't talk about the Battle of Gettysburg without noting its unique place in history.

The three-day engagement over July 1-3, 1863, was the largest battle ever fought in North America. About 160,000 troops were involved, and more than 50,000 were killed or wounded or went missing. It also marked the end of the Confederacy's invasion of the North, and it changed the course of the Civil War.
Now, as the nation marks the 150th anniversary of Gettysburg, the host state of Pennsylvania expects to reap major economic benefits from Civil War-related tourism.
"It's been three or four years of planning," National Park Service spokesman Mike Litterst told The Associated Press. "In a lot of ways, this is the Olympic moment for Gettysburg."
The Gettysburg Convention and Visitors Bureau tells MSN Money that at least 200,000 people are expected to visit the town and its environs between June 28 and July 7 to take part in the hundreds of reenactments, battlefield tours, ceremonies and other events.

Overall, the10-day commemoration is expected to bring in $100 million for the region, contributing to an annual impact for 2013 of $750 million, compared with $605 million for 2012.
Bob Kirby, the superintendent of the Gettysburg National Military Park, recently told PennLive.com the park has been spending a lot of money as well as it prepares for invasion by an army of tourists. It has been busy repaving pathways, creating safety walkways near busy roads, implementing a new parking system, upgrading facilities and otherwise doing "routine maintenance on steroids."

According to Kirby, about $500,000 of that funding is coming from the Federal Lands Recreation Fee Program, which collects 20% of entrance fees from many federal lands across the country. But most is expected from donations gathered by the nonprofit Gettysburg Foundation and other organizations.
Tourism is the region's top industry, and neighboring parts of the state are seeing their numbers pick up as well.

"I am seeing it out in the visitors center and hearing it from our visitors center staff," Kathleen Frankford, the president of the Pennsylvania Dutch Convention & Visitors Bureau in nearby Lancaster County, told Lancaster Online.

And once these commemorations are over, tourism officials will start to prepare in earnest for another major event: the 150th anniversary of Abraham Lincoln's landmark Gettysburg Address in November.

Any American who has never visited this hallowed battleground needs to do so. It is a most amazing place. What happened there was so unique in history and as columbusousa said "150 years ago and still reverbrates through us" ... indeed!
If you go there, spend a little time reading about what happened there, and then go and stand where these men stood and fought, and I promise you will still feel their presence there.  
There was no right side, or wrong side ... and certainly no winner or loser. Both sides lost, and they lost so many. Ultimately America won. But it was only through the absolute terror struck into the hearts of these many thousands of men, some who fell and others who did not. But, it was not the terror of the ball that sought them out that caused their fear, but the terror that was all that they worked and held dear, and the potential for it all to go away in an eye blink. The terror was how close we came to never being able to be America that we were destined to be. Fortunately a weld is the strongest part of broken pieces of steel. And so stands America.

Our family went and walked the grounds maybe 13 years ago and the experience was truly overwhelming.  At the time we were there the huge, ugly private observation tower on the outskirts of the site was still running, so we went up.  As much as it was a blight on the landscape and few tears were shed by history buffs when it came down a few years back, it gave you an overview that let you connect the dots far better than the various dioramas you see in the park exhibits during the day.  You saw in an instant just how important the high ground of the Roundtops was to the outcome and how truly wide was the field they would cross as part of Pickett's Charge.  I learned about Gettysburg from a dedicated 8th grade history teacher who was a Civil War buff. He had  tears in his eyes as he taught us about the way, especially Gettysburg and First Bull Run. Go to Gettysburg and you will understand why.  I also understand there is an annual candlle luminary each December near Antietam with one light for each of the 25,000 or more dead.  We hope to see that someday.




The Fourth of July, the 150th anniversary of the Civil War. And the prez is in Africa on a how many million dollar safari?  I can't go to my White House and take a tour because of a "sequester" he invented?   WAKE up America!!! And now  he's going to electrify Africa to the tune of 90 billion of our American dollars??? China is loving this !

One visit isn't enough like other historic sites. We could feel the heat rising from the earth from summer sun, smell the carnage,hear the incredible roar of guns and men and animals being blown apart- We could Imagine what the lowest level in Hell would be.
Being there we could finally understand what the  words of a few paragraphs meant in  textbooks. At last I could understand why Lee's attack failed. And I was proud of the band of Texans and others who fought without pausing to rest from their long ardous walk. We were amazed at the skill these men used rifles.
. The living conditions of the encampment prior to the battle was filthy and smelly.    And it was only worse after the war when bodies were left where they fell.
    We visited the cemetery where only Union soldiers are buried.

Check out the 1938 75th reunion film of the very old vets of the battle.  White hair and beards, black suits, some look healthy for their age  and they are in their mid 90s at the least.  Overall, the war toll was around 750,000 dead (incl. those who lingered for years after 1865) out of a total US pop. of 31 million, incl. 4 million slaves. 
Are you sure you want to delete this comment?
DATA PROVIDERS
Copyright © 2014 Microsoft. All rights reserved.
Fundamental company data and historical chart data provided by Morningstar Inc. Real-time index quotes and delayed quotes supplied by Morningstar Inc. Quotes delayed by up to 15 minutes, except where indicated otherwise. Fund summary, fund performance and dividend data provided by Morningstar Inc. Analyst recommendations provided by Zacks Investment Research. StockScouter data provided by Verus Analytics. IPO data provided by Hoover's Inc. Index membership data provided by Morningstar Inc.
MARKET UPDATE
[BRIEFING.COM] Recent action saw the key indices inch to fresh lows for the session. Including today's decline of 0.8%, the S&P 500 is lower by 0.5% so far in September. Despite the loss for the month, the benchmark index has fared a bit better than its higher-beta peers. On that note, the Nasdaq has given up 1.3% so far this month, while the Russell 2000 is down 3.7% for the month. Elsewhere, the price-weighted Dow (-0.5%) trades ahead of the broader market today and is up 0.6% for the ... More
More Market News