Giving birth in America is costlier but not safer
The US by far leads the world in maternity expenses even as new mothers and babies die at alarming rates.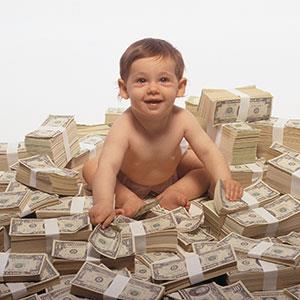 Every new American baby born into the world arrives with a global distinction: The cost of giving birth in the U.S. is orders of magnitude more expensive than in the rest of the world. That's the case even though women here have shorter hospital says to recuperate, according to
The New York Times
.
Citing data from the International Federation of Health Plans, the newspaper said the average price for a vaginal delivery in 2012 was $9,775, while a cesarean section cost $15,041. In Switzerland, which ranked second, those costs were $4,039 and $5,186, respectively.
Worse, these gigantic differences aren't translating into healthier mothers and babies. 
"Despite its lavish spending," the paper noted, "the United States has one of the highest rates of both infant and maternal death among industrialized nations, although the fact that poor and uninsured women and those whose insurance does not cover childbirth have trouble getting or paying for prenatal care contributes to those figures."
Obstetricians in the U.S., who have among the highest malpractice insurance rates, aren't getting rich from this trend, the paper said. Less than 25% of birthing fees go to these doctors, many of whom charge flat rates.

Even women with normal pregnancies get more tests than they need. And about 30% of American women are induced with drugs or have C-sections, a rate far higher than doctors say is necessary and well in excess of the rest of the world, the report said.
Although the Obama administration's Affordable Care Act will enable 30 million more people to have insurance by the end of the decade, it isn't clear whether that coverage will meet the needs of those who buy it,
The Washington Post
recently noted.
"Millions of Americans pay monthly premiums with the expectation that, should a horrible illness or accident occur, the insurance company will cover the majority of some pretty expensive hospital bills," the paper said. "Some experts and health advocates have begun to question whether the health-care law can deliver on that promise."
As it is now, many people with jobs don't have maternity coverage, which prompts them watch every penny they spend to bring their children into the world. That's one reason more than 60% of all
personal bankruptcies
are tied to medical costs.
Giving birth to a baby shouldn't also mean giving birth to a bankruptcy.
Jonathan Berr does not own shares of the listed stocks. Follow him on Twitter @jdberr.
DATA PROVIDERS
Copyright © 2014 Microsoft. All rights reserved.
Fundamental company data and historical chart data provided by Morningstar Inc. Real-time index quotes and delayed quotes supplied by Morningstar Inc. Quotes delayed by up to 15 minutes, except where indicated otherwise. Fund summary, fund performance and dividend data provided by Morningstar Inc. Analyst recommendations provided by Zacks Investment Research. StockScouter data provided by Verus Analytics. IPO data provided by Hoover's Inc. Index membership data provided by Morningstar Inc.
MARKET UPDATE
[BRIEFING.COM] S&P futures vs fair value: -5.50. Nasdaq futures vs fair value: -13.00. Nasdaq at... NYSE Adv/Dec 0/0... Nasdaq Adv/Dec 0/0.
More Market News