Government Motors is almost no more
The Treasury sells $811 million worth of its stake in General Motors. It still needs $14.1 billion to break even on the automaker's bailout.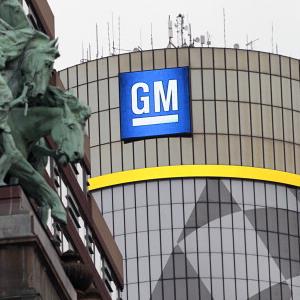 Uncle Sam is $811 million richer and
General Motors
(
GM
) is a step closer to getting that "government motors" insult to go away, assuming taxpayers don't end up taking a loss on its bailout.
According to The Associated Press, the Treasury Department said it sold $811 million worth of GM common stock last month. The report, issued Tuesday, says the government has recovered about $35.4 billion of the $49.5 billion bailout. That still leaves a hefty $14.1 billion on the table.
The government still has an estimated 186 million shares. Those would have to sell for around $76 each for the government to break even, which is a bit problematic considering that's more than double the current trading price. Maybe the government would have more time to let the stock mature a bit if it hadn't painted itself into a corner by promising to sell all its GM shares by early 2014.
It made that announcement back in January and hired JPMorgan Securities and Citigroup Global Markets to conduct the sale. While the Treasury understandably wants to put this mess behind it, its haste seems more for GM's benefit. The Treasury did the bailing out, but running out of cash in 2008 and needing the government to fund its bankruptcy reorganization was all GM's doing. 
When the government finally sells all of its shares, it will end a sad chapter in GM's history. The company nearly ran out of cash in 2008 and needed government money to survive a trip through bankruptcy reorganization. With GM posting 14 straight profitable quarters since then, maybe the Treasury just wanted to go out on a high note.
Considering the company is just getting around to updating its most popular vehicle -- the Chevrolet Silverado -- and finally reaping some benefits from alternative-fuel vehicles, a little more patience from the Treasury might have paid off.

Don't buy any GM products until they repay the pension plans and make good on those bonds.
The UAW stole that money from the widows and orphans, pensions and taxpayers.
Every time I see someone buying a GM product, I can't help but think, it says, I SUPPORT theft to support the deadbeat UAW and the scum they represent...

Maybe they should pay back 100% of their bailout money instead of 30% of it.  Then, all the stockholders who took it in the back by obozo's money giveaway would like a refund for their losses.  I will not support any products of obozo's failures but instead buy from someone who knows how to handle their own business affairs.

Dream on.  That "government motors" insult will NEVER go away.  For all you bow tie liars who have been saying "GM paid that back" for the last 4 years...no, no they haven't.  They are still 14 Billion in the red on our tax money.  Government Motors is there to stay.  They've been an insult to the motoring public...and now the insult is on them.

Are you sure you want to delete this comment?
DATA PROVIDERS
Copyright © 2014 Microsoft. All rights reserved.
Fundamental company data and historical chart data provided by Morningstar Inc. Real-time index quotes and delayed quotes supplied by Morningstar Inc. Quotes delayed by up to 15 minutes, except where indicated otherwise. Fund summary, fund performance and dividend data provided by Morningstar Inc. Analyst recommendations provided by Zacks Investment Research. StockScouter data provided by Verus Analytics. IPO data provided by Hoover's Inc. Index membership data provided by Morningstar Inc.
MARKET UPDATE
[BRIEFING.COM] The stock market finished the Tuesday session on the defensive after spending the entire day in a steady retreat. The S&P 500 (-0.6%) posted its third consecutive decline, while the small-cap Russell 2000 (-0.9%) slipped behind the broader market during afternoon action.

Equity indices were pressured from the start following some overnight developments that weighed on sentiment. The market tried to overcome the early weakness, but could not stage a sustained rebound, ... More
More Market News