Guinness bashed for fake 'alcoholiday'
Not content to just co-opt St. Patrick's Day, Diageo created Arthur's Day to sell more stout. A growing chorus of critics says the event has only increased hospital visits.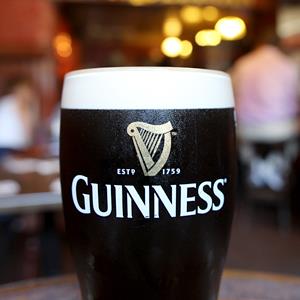 When it comes to co-opting holidays and turning them into "Drink The Beer Day," the folks at Guinness and its parent company,
Diageo
(
DEO
), aren't beyond bending the calendar to their whim.
Here in the U.S., the drinking holiday has just become part of the industry's schedule. Bars still dispense green beer for St. Patrick's Day, the folks at Constellation Brands' (STZ) Crown Imports once dubbed Corona "The Drinko For Cinco de Mayo," and both Memorial Day and Labor Day are marked with displays of red, white and blue beer cans.

Even Louisiana's Abita brews a Mardi Gras Bock just for Fat Tuesday.
At one time, Guinness was content to serve as the de facto beer of St. Patrick's Day based solely on its Irish heritage. Then it started getting dumb ideas about Cinco de Mayo after the folks at Modelo encroached on its turf. More recently, it drew the ire of The New York Times, The Guardian and The BBC for basically making up a holiday -- "Arthur's Day" -- explicitly to sell more Guinness.

Started by the Diageo marketing folks in 2009 as a means of promoting the brand's 250th anniversary, "Arthur's Day" beckons people throughout Ireland to celebrate Guinness' 1759 anniversary year by being in a bar at 5:59 p.m. (or 17:59) to raise a glass to Arthur Guinness, the brewery's founder. This year's event is Thursday.

The events also tie in performances by the Manic Street Preachers and Janelle Monae in what Diageo considers a toast to Ireland's music heritage.
Detractors consider the brewer's call to "paint the town black" and Tourism Ireland's promotion of said day little more than a means of promoting drunkenness and boosting a sagging brand.
There were reports of a 30% increase in ambulance calls in central Dublin after last year's event, while 2,000 hospital beds were tied up with people admitted with alcohol-related illness. Dr. Stephen Cusack, a physician in Cork, told the Times that the streets of the Dublin resembled the "last days of Sodom and Gomorrah."
Diageo counters that it's telling people to drink responsibly and that it's ultimately up to pubgoers to do so, yet agreed to send its European corporate director to a Dublin emergency ward to witness the fallout. However, Dr. Stephen Stewart, director of the Center for Liver Disease at the Mater Hospital in Dublin, said this week in a statement that cirrhosis of the liver was reaching epidemic proportions across Ireland, particularly among the younger people, the age group most likely to fill pubs.
Meanwhile, musicians not unfamiliar with pints of Guinness themselves have begun bashing Arthur's Day. Folk singer Christy Moore, has branded the event an "alcoholiday" while the Waterboys' wrote "A Song for Arthur's Day" that addresses the strain the day puts on emergency services.
Perhaps the biggest gripe isn't that Guinness has set up a drinking holiday exactly six months removed from St. Patrick's Day that falls one one of the biggest student drinking nights of the week. It's that Arthur's Day is a bald-faced ploy by a brewery whose storehouse is the No. 1 tourist destination in Ireland, but whose stout continues to lose market share in its home country.

While Guinness was unquestionably Ireland's beer of choice in the early 1970s, when stouts made up 70% of the beers consumed by Irish drinkers, a 2006 report from Ireland's Competition Authority noted that European and American lagers had become "more fashionable" and taken 63% of Ireland's beer market compared with just 32% for stout. Guinness' Irish market share has slipped from nearly 31.1% in 2006 to just 26.9% by 2011, according to Euromonitor International. By comparison, Heineken, Budweiser and Carlsberg now account for roughly 34% of all beer consumed in Ireland.
That could be the biggest reason that Diageo is weighing whether or not it will promote Arthur's Day next year. A spokeswoman for the company told the BBC that the company was surprised by the adverse reaction the event has received this year and isn't quite sure that the event will continue to exist in the near future.
"Nothing is ever concrete. We'll be looking at it afterwards," she said.
DATA PROVIDERS
Copyright © 2014 Microsoft. All rights reserved.
Fundamental company data and historical chart data provided by Morningstar Inc. Real-time index quotes and delayed quotes supplied by Morningstar Inc. Quotes delayed by up to 15 minutes, except where indicated otherwise. Fund summary, fund performance and dividend data provided by Morningstar Inc. Analyst recommendations provided by Zacks Investment Research. StockScouter data provided by Verus Analytics. IPO data provided by Hoover's Inc. Index membership data provided by Morningstar Inc.
MARKET UPDATE
[BRIEFING.COM] The stock market finished an upbeat week on a mixed note. The S&P 500 shed less than a point, ending the week higher by 1.3%, while the Dow Jones Industrial Average (+0.1%) cemented a 1.7% advance for the week. High-beta names underperformed, which weighed on the Nasdaq Composite (-0.3%) and the Russell 2000 (-1.3%).

Equity indices displayed strength in the early going with the S&P 500 tagging the 2,019 level during the opening 30 minutes of the action. However, ... More
More Market News