Hatfields-McCoys feud reignites -- 21st-century-style
Now the subject of a reality TV show about moonshining, the families are warring again -- this time over a trademark.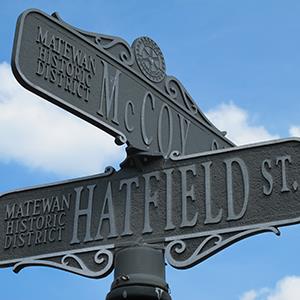 From the life-imitating-art department comes the story of how the historic feud between the Hatfields and McCoys became the basis of a reality TV, which in turn spawned a separate spat away from the cameras -- over a trademark.
Confused?
The History Channel's "Hatfields and McCoys: White Lightning" tells the story of how the famous warring families are setting aside their differences to get into the moonshine business with the help of former Barcardi USA executive Monselle Darville.
According to
Advertising Age
, Darville and other investors have filed for trademark protection for "The Legendary Hatfield & McCoy Moonshine" and hope to launch the brand by year's end and take it national.
Unfortunately, Nancy Justus Hatfield also wants to get into the moonshine business and is trying to trademark the brand "Hatfield & McCoy Moonshine the Drink of Devil Anse Hatfield."  Nancy Justus Hatfield's brother Mark Hatfield is featured in the History Channel reality show.
In an interview with the trade publication, Darville argues that Nancy Justus Hatfield can't use the McCoy name since her venture includes only a Hatfield. Her attorney, Greg Chiartas, denies Darville's claim and said his clients "have a McCoy," though he declined to name the individual.
"In southern West Virginia, it's not that hard to find a Hatfield or a McCoy," he told Ad Age.
It's hard to say who has the advantage in the 21st century chapter of this famous family feud.
Although the brand featured on the show filed for trademark protection first, people can use their last name on a product, unless it's already used to identify a competing product, the publication says. It looks like a judge may have to decide the winner.
Before you ask ... both sides deny that this fight is a publicity stunt concocted to boost ratings for the show.
Follow Jonathan Berr on Twitter @jdberr and at Berr's World.
DATA PROVIDERS
Copyright © 2014 Microsoft. All rights reserved.
Fundamental company data and historical chart data provided by Morningstar Inc. Real-time index quotes and delayed quotes supplied by Morningstar Inc. Quotes delayed by up to 15 minutes, except where indicated otherwise. Fund summary, fund performance and dividend data provided by Morningstar Inc. Analyst recommendations provided by Zacks Investment Research. StockScouter data provided by Verus Analytics. IPO data provided by Hoover's Inc. Index membership data provided by Morningstar Inc.
MARKET UPDATE
[BRIEFING.COM] S&P futures vs fair value: +4.90. Nasdaq futures vs fair value: +13.50. U.S. equity futures trade modestly higher amid upbeat action overseas. The S&P 500 futures hover five points above fair value. The global risk appetite got a boost overnight after the results of the Scottish independence referendum revealed a 55-45 vote in favor of remaining in the UK. The pound saw a brief extension of its recent rally before surrendering its overnight advance. The pound/dollar ... More
More Market News