Hostess employees unhappy with wage cuts
The snack cake company returns with fewer factories, reduced employee pay, raided pensions and no unions.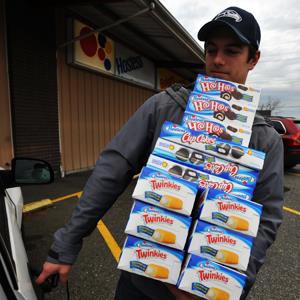 Oh, were you terribly upset when Twinkies went away and then came back
frozen for increased longevity
? We're sure Hostess employees would pass you a crying towel if they weren't cut from the company benefits package.
While the Ho Ho-inhaling masses and new owners Apollo Global Management (APO) and C. Dean Metropoulos & Co. are terribly excited for the return of the snack cakes that disappeared from the American menu nearly eight months ago amid labor turmoil, The Wall Street Journal notes that the workers producing those treats have little reason to share in the glee.
The Journal shared the story of Craig Davis, a former forklift operator at a Hostess cake plant in Emporia, Kan., who was making more than $16 an hour before his plant closed in November, but was invited back at $11 an hour. Davis, who put in 22 years at his old job, considered the rebuilt baking company's offer "a slap in the face" and "didn't see the point" in returning.
Wages are only one of the big changes former Hostess workers have seen when returning to plants that are trying to produce enough Twinkies and Sno Balls for a July 15 return to shelves. For one, there are now only four plants dedicated to Hostess Brands where there were once 11. The company has also shuttered its 600 bakery-operated thrift stores in favor of broader convenience-store distribution.
Also, the 79% of Hostess workers that were part of the Bakery, Confectionery, Tobacco and Grain Millers International Union has now dwindled to 0%. C. Dean Metropoulos, chief executive and co-owner of the new Hostess, says his company has "put together an excellent and competitive wage and benefits program for our employees."
That definition of "excellent" has changed a bit since November, when Hostess' union workers went on strike in response to a new contract imposed on them by a bankruptcy court. The bakers weren't happy that the company was ending pension contributions and only grew more irate when Hostess later admitted it diverted pension money to fund company operations.
Hostess workers who belonged to other unions -- like delivery drivers who belonged to the International Brotherhood of Teamsters -- blamed the bakers' union for taking their jobs down as well. Under the restructured company, Hostess route drivers who once delivered directly to stores have been replaced by truckers who deliver to third-party distribution warehouses.
Still, with former employee pensions reduced from $1,800 a month to $500, you'll have to pardon both former and current Hostess workers for lacking the same sweet nostalgia for Hostess shared by the new owners and their customers.
DATA PROVIDERS
Copyright © 2014 Microsoft. All rights reserved.
Fundamental company data and historical chart data provided by Morningstar Inc. Real-time index quotes and delayed quotes supplied by Morningstar Inc. Quotes delayed by up to 15 minutes, except where indicated otherwise. Fund summary, fund performance and dividend data provided by Morningstar Inc. Analyst recommendations provided by Zacks Investment Research. StockScouter data provided by Verus Analytics. IPO data provided by Hoover's Inc. Index membership data provided by Morningstar Inc.
MARKET UPDATE
[BRIEFING.COM] S&P futures vs fair value: -6.30. Nasdaq futures vs fair value: -14.80. U.S. equity futures trade hover near their pre-market lows amid cautious action overseas. The S&P 500 futures hover six points below fair value, which puts the benchmark index on track to continue its retreat after losing 0.8% yesterday.

Overnight, markets in Asia traded in mixed fashion, but sentiment worsened after the start of the European session, where all the key indices hold losses ... More
More Market News