How a sushi-eating surfer is killing food stamps
Jason Greenslate became the face of abuse of the nutrition program by bragging about buying fancy items. But he's far from the norm.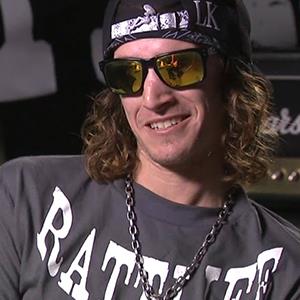 Meet Jason Greenslate, the poster boy for food stamp abuse. 

Greenslate (pictured) is a 29-year-old San Diego surfer who was captured by Fox News in August going on a "food stamp binge," buying lobster and sushi with his EBT card. "All paid for by our wonderful tax dollars," he told the news channel, adding: "It's free food. It's awesome."
That's horrifying to many taxpayers, given the huge climb in food stamp spending. The Supplemental Nutrition Assistance Program, or SNAP, is now a $75 billion annual program, up from just $21.4 billion in 2003. But with billions of dollars now at risk of being cut from the program, it's important to note that Greenslate is far from the norm when it comes to food stamp recipients. 
For one, Greenslate is an able-bodied adult, which represents just a sliver of the nation's 47.7 million food stamp recipients. 
An overwhelming majority of food stamp beneficiaries are either not expected to work or are working, according to a January report from the Center on Budget and Policy Priorities. Here's the breakdown for SNAP recipients:
68% are children, disabled or elderly and are not expected to work.
Receiving food stamps doesn't actually discourage people from working, either, given that more than 80% of recipients work either in the year before or after receiving the aid, the group notes.
But Greenslate's brief moment in the conservative media spotlight might just mean less food on the table for poor and low-income children and the elderly. 
That's because Fox News distributed the clip of Greenslate laughing at the idea of working a normal job on Capitol Hill, notes the Huffington Post. The House last week voted to cut food stamp spending by 5%, with one lawmaker citing the surfer as a motivation.
As for Greenslate himself, he told The Huffington Post that spending decisions for millions shouldn't be made on the basis of one individual case. 
"I don't think that one person should be the decision for 47 million people," he said. (He also told the Huffington Post that he's not lazy and works in his band for more than 40 hours per week.)
Greenslate has one thing right: He's not representative of the vast majority of food stamp recipients. 
That might be your local Wal-Mart (WMT) employee, such as Claire Robinson of Columbus, Ga., who relies on SNAP to help feed her and her 9-year-old daughter. 

"Before (lawmakers) make the cuts, they should look at the household income to make sure no kids are going to go hungry," she told The Columbus Ledger-Enquirer. "It could put a strain on a lot of families."
So here's an idea for Fox News: The next time the network profiles someone receiving food stamps, how about picking someone who actually represents the majority of recipients? Chances are it's going to be a lot more sobering to realize food stamp cuts will actually take food away from those in real need. 

Follow Aimee Picchi on Twitter at @aimeepicchi.
DATA PROVIDERS
Copyright © 2014 Microsoft. All rights reserved.
Fundamental company data and historical chart data provided by Morningstar Inc. Real-time index quotes and delayed quotes supplied by Morningstar Inc. Quotes delayed by up to 15 minutes, except where indicated otherwise. Fund summary, fund performance and dividend data provided by Morningstar Inc. Analyst recommendations provided by Zacks Investment Research. StockScouter data provided by Verus Analytics. IPO data provided by Hoover's Inc. Index membership data provided by Morningstar Inc.
MARKET UPDATE
[BRIEFING.COM] S&P futures vs fair value: -5.50. Nasdaq futures vs fair value: -13.00. Nasdaq at... NYSE Adv/Dec 0/0... Nasdaq Adv/Dec 0/0.
More Market News