How ex-cons add billions to food stamp costs
With their job prospects so dismal, they have little recourse but to join the already surging assistance rolls.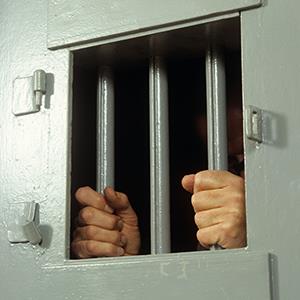 With more than 2 million Americans behind bars, federal, state and local governments shell out about $75 billion annually to keep them locked up. But the cost to taxpayers doesn't end there.

Because many employers refuse to hire people who have been convicted of crimes when their incarceration is over, it's likely that most of them rely on food stamps to get by, costing taxpayers an additional $4 billion each year, according to an estimate from the Center for Economic and Policy Research.
"If you were to envision that these people didn't have the black mark of a prison record, they would be getting more money or more hours or both," CEPR co-director Dean Baker told The Huffington Post. "A lot of people fall into that category."
While Baker noted that his estimate is rough, the difficulty that convicts face in the job market is substantial, with potential employers concerned about recidivism and crime. The recession made it even harder, increasing the competition for jobs amid a rise in the unemployment rate.
The U.S. Census Bureau is one major employer that has turned away people with records, banning some with felony convictions from working on the 2010 Census. 
At the same time, the number of Americans receiving food stamps has surged, reaching 46.6 million last year at a cost of $78.4 billion. Only a decade ago, there were just 21.3 million recipients at a cost of $23.8 billion.
Some lawmakers are supporting legislation that would ban people convicted of murder, pedophilia and violent sexual assault from receiving food stamps. Already, 32 states ban people with drug felony convictions from receiving the benefit. 
One offender told HuffPo that he went on food stamps after applying to 80 jobs and receiving 80 rejections. The only interview he got was at Yum's (YUM) Taco Bell. 
"Food stamps was the only option," said James Cannon Jr., who now works at the advocacy group Take Action Minnesota. "That was something I never had to do in the past."
Follow Aimee Picchi on Twitter at @aimeepicchi.
DATA PROVIDERS
Copyright © 2014 Microsoft. All rights reserved.
Fundamental company data and historical chart data provided by Morningstar Inc. Real-time index quotes and delayed quotes supplied by Morningstar Inc. Quotes delayed by up to 15 minutes, except where indicated otherwise. Fund summary, fund performance and dividend data provided by Morningstar Inc. Analyst recommendations provided by Zacks Investment Research. StockScouter data provided by Verus Analytics. IPO data provided by Hoover's Inc. Index membership data provided by Morningstar Inc.
MARKET UPDATE
[BRIEFING.COM] The stock market ended the holiday-shortened week on a mixed note as the Dow Jones Industrial Average shed 0.1%, while the S&P 500 added 0.1% with seven sectors posting gains.

Equity indices faced an uphill climb from the opening bell after disappointing quarterly results from Google (GOOG 536.10, -20.44) and IBM (IBM 190.04, -6.36) weighed on the early sentiment. Google reported earnings $0.15 below the Capital IQ consensus estimate on revenue of $15.42 ... More
More Market News
TOP STOCKS
This is the oil play to watch
The Cline Shale in Texas could be the largest North American oil region of all time. Here's one stock at the center of it all.