How robots may affect farming's future
New technologies could make American agriculture more efficient, cutting the number of workers needed and having an impact on the immigration debate.
Mechanization has helped make America's agricultural success story possible. The U.S. Department of Agriculture says our farm output was 170% above 1948 levels in 2009 and has been growing at an average annual rate of 1.63%.

That increased productivity is a historic marvel -- brought around in part by science, technology and generations of dedicated and passionate agricultural workers.
Nearly all of our food is, in some way, machine-harvested. The exception to that rule has been market-ready fresh produce -- especially delicate and easily bruised fruits and vegetables harvested manually by field laborers.
But that may be changing, as robotics experts develop new machinery that's not only ground-breaking, both figuratively and literally, but could also change the future of the nation's migrant farm worker labor force.
The Associated Press recently reported on a "lettuce bot" being tested in California's Salinas Valley. It uses video cameras and visual-recognition software and can do the work of 20 manual laborers as it quickly thins out lettuce seedlings. This video shows the lettuce bot at work.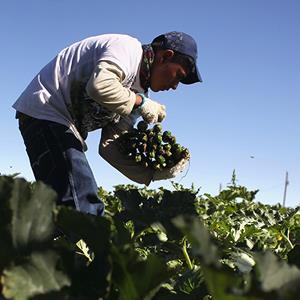 The company behind Lettuce Bot, Blue River Technology of Mountain View, Calif., has raised more than $3 million in venture capital, and it plans to develop weeding and harvesting machines. The Spanish company Agrobot, meanwhile, is testing a strawberry harvester in Southern California, and Vision Robotics of San Diego is working on a device that prunes wine grapes.
But machines have yet to match humans when it comes to harvesting fruit and identifying which fruit is ready for market.
"The hand-eye coordination workers have is really amazing, and they can pick incredibly fast," Daniel Schmoldt with the USDA's National Institute of Food and Agriculture told the wire service. "To replicate that in a machine, at the speed humans do and in an economical manner, we're still pretty far away."
The need for further automation of fresh produce is being driven by a variety of factors -- including growing global demand for food and agricultural competition from other countries. There are also concerns about how changes in immigration laws could affect the estimated 3 million migrant and seasonal farmworkers in the U.S. -- about 72% of whom are foreign-born, according to the National Center for Farmworker Health.

Farmworker advocates say mechanization would not only mean fewer jobs, but it could also take away an important human element when it comes to guaranteeing food safety.

"The fundamental question for consumers is who and, now, what do you want picking your food: a machine or a human," Erik Nicholson, national vice president of the United Farm Workers of America, told The AP.
Are you sure you want to delete this comment?
DATA PROVIDERS
Copyright © 2014 Microsoft. All rights reserved.
Fundamental company data and historical chart data provided by Morningstar Inc. Real-time index quotes and delayed quotes supplied by Morningstar Inc. Quotes delayed by up to 15 minutes, except where indicated otherwise. Fund summary, fund performance and dividend data provided by Morningstar Inc. Analyst recommendations provided by Zacks Investment Research. StockScouter data provided by Verus Analytics. IPO data provided by Hoover's Inc. Index membership data provided by Morningstar Inc.
MARKET UPDATE
[BRIEFING.COM] The major averages ended the midweek session with slim gains after showing some intraday volatility in reaction to the release of the latest policy directive from the Federal Open Market Committee. The S&P 500 added 0.1%, while the relative strength among small caps sent the Russell 2000 higher by 0.3%.

Equities spent the first half of the session near their flat lines as participants stuck to the sidelines ahead of the FOMC statement, which conveyed no changes to the ... More
More Market News