How shopping can make you feel lonelier
A new study suggests that buying things can contribute to social isolation and stifle personal relationships.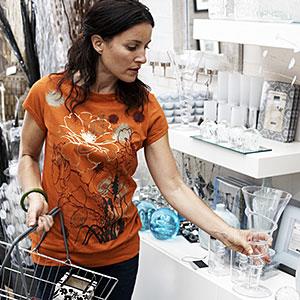 "I love shopping," Rebecca Bloom wrote in her debut book Girl Anatomy: A Novel. "There is a little bit of magic found in buying something new. It is instant gratification, a quick fix."
But the quick fix that shopping brings to some people can also lead to a lot of isolating behaviors, researchers say. That is, it can make you lonely and feel cut off from the people around you.
The data, scheduled to be published in December in the Journal of Consumer Research, has been getting a lot of publicity lately, perhaps because it confirms what a lot of people already believe to be true.
The study, by a professor of marketing at Tilburg University in The Netherlands, looked at data from 2,500 consumers over a six-year period. It found that many shoppers face a cyclical, "material trap" in which materialism contributes to social isolation, which in turn reinforces materialism.
According to the study, people shop for three major reasons:
Acquisition centrality -- In less academic terms, getting pleasure simply from the process of buying stuff, which includes "the joy of spending money on things that are not practical, and liking a lot of luxury in life."
Possession-defined success -- The idea that "you are what you own" and that material possessions determine how well you're doing in life, especially in comparison with people around you.
Acquisition as the pursuit of happiness -- In this case, "possessions are a drug," the study says. Acquiring stuff for this type of shopper means having "all the things one needs to enjoy life" and chasing tangible joy rather than focusing on intangibles like personal relationships, experiences or achievements.
But the study also found what it labeled the "virtuous" side of materialism: the valuing of possessions as a source of "material mirth," which can also decrease loneliness.
"Ironically, it's the maligned shopoholics who seem to have it right," Derek Thompson wrote recently in The Atlantic, "and they might hold the key to breaking the vicious cycle of loneliness and consumption."
Dr. Gail Saltz, a psychiatrist with the NY-Presbyterian/Weil​l Cornell Medical Center, says shopping isn't technically addictive, but it can become compulsive behavior for some consumers who prefer what some experts wryly call "retail therapy" to dealing with other issues in their lives.
"If you are buying something you can afford and everybody that is involved in your finances is OK with it, then that's fine," Saltz told CBSNews.com. "But if you're in credit card debt or stashing it in your trunk so your husband doesn't see you bought something, this is not an effective method."
DATA PROVIDERS
Copyright © 2014 Microsoft. All rights reserved.
Fundamental company data and historical chart data provided by Morningstar Inc. Real-time index quotes and delayed quotes supplied by Morningstar Inc. Quotes delayed by up to 15 minutes, except where indicated otherwise. Fund summary, fund performance and dividend data provided by Morningstar Inc. Analyst recommendations provided by Zacks Investment Research. StockScouter data provided by Verus Analytics. IPO data provided by Hoover's Inc. Index membership data provided by Morningstar Inc.
MARKET UPDATE
[BRIEFING.COM] The stock market finished the Thursday session on a higher note with the S&P 500 climbing 0.5%. The benchmark index registered an early high within the first 90 minutes and inched to a new session best during the final hour of the action.

Equities rallied out of the gate with the financial sector (+1.1%) providing noteworthy support for the second day in a row. The growth-oriented sector extended its September gain to 1.9% versus a more modest uptick of 0.4% for the ... More
More Market News