If Best Buy can rebound, why not J.C. Penney?
Despite another awful earnings report, Wall Street thinks it sees early successes in CEO Mike Ullman's turnaround plan.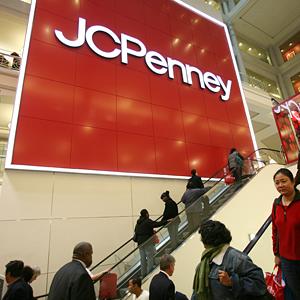 Though
J.C. Penney
(
JCP
) on Tuesday posted another quarter that was even worse than Wall Street expected, some glimmers of hope are emerging about the beleaguered retailer, which like
Best Buy
(
BBY
) was once given up by many as a lost cause.
CEO Myron "Mike" Ullman, who was brought in to clean up the mess left by his
predecessor/successo​r
Ron Johnson, said in the
earnings press release
, "We are encouraged by our early performance this Back to School season." The quarter's results, however, were pretty awful.
Penney posted a loss of $586 million, or $2.86 per share, in the most recent quarter versus a year-earlier loss of $147 million, or 67 cents per share. Excluding one-time items, the per-share loss was $2.16, worse than the $1.06 loss analysts had expected. The $2.66 billion sales figure also lagged analysts' forecast.
Shares of J.C. Penney, nontheless, traded up as Wall Street cheered what little progress the 111-year old retailer did make. The overall sales drop was 12%, far below the 23% tumble a year earlier. Same-store sales, a critical metric of store performance open at least a year, fell 11.9%, versus a 22% slide during the same time period in 2012.
Best Buy shares are on the move as well after the
consumer electronics
chain reported
better-than-expected​
results as the cost-cutting undertaken by CEO Hubert Joly appeared to be working. Like Penney, Best Buy has also had plenty of backstage drama, including the ouster of a former CEO  Brian Dunn for having an inappropriate relationship with a subordinate. Chairman Richard Schulze was forced to resign and failed to take the company private. He has since returned as chairman emeritus.
But if Best Buy can rebound, why not Penney?
Some Wall Street analysts said they saw reason to be optimistic. Macquarie Group's Liz Dunn told
Bloomberg News
that "it's not the disaster that some thought it would be." Analysts at Sterne Agee are encouraging clients saying to buy Penney's shares, arguing that they're too cheap to ignore considering the boardroom drama involving
activist investor Bill Ackman
has been resolved.  
Ackman, who lost a fight over the company's leadership and subsequently resigned his director's seat, recently entered an agreement with J.C. Penney so that he can begin selling his massive stake. Other hedge fund tycoons are eager to snap up the shares. Billionaire George Soros reportedly is the retailer's second-largest holder behind Ackman, and
hedge fund investor J. Kyle Bass
has taken a position as well.
One thing's for sure about Penney: One quarter does not make a trend.
Jonathan Berr does not own shares of the listed stocks. Follow him on Twitter @jdberr.
Not so sure of the JC Penny rebound coming:
Speaking from personal experience... I had a JC Penny account that I opened in 1992, and periodically charged small items for 15 years, always leaving a zero balance, and my credit limit increased slowly with them, then the purchases got larger and more frequent as my daughter got older, again I always left a zero balance.  Last year, I suddenly received a letter in the mail that my JC Penny account was closed due to inactivity (less than 6 months of inactivity).  I can say this school season as my daughter entered high school they have missed out on ALL our clothing purchases this year, and I am guessing there are a whole lot just like myself who fell victim of the Ron Johnson fiasco.  Funny, the JC Penny ads keep coming, and I keep telling my story.



I always loved JCP, however, when they did away with the catalogs, which gave me ideas how to put clothes together, I just forgot about them.  I have been ordering from other catalog dealers.  Please, please bring back the old catalogs and I know I would start ordering.  I guess I just don't have any imagination.
 whywe

I was ripped off by Best Buy on a new computer setup for my home ($3,000+). Due to a disability I could not set up the equipment myself so I paid them extra to do so.  When there were problems I received no service & nothing but excuses for a year. When they finally said they would be able to help they  wanted to put me on the schedule for the next month - after their warranty & their expensive service program expired.  I called somewhere else & will never spend a dime Best Buy again.  One of my adult daughters had a similar experience with them. 
I don't see how you can compare a clothing store to one that sells electronics. One has been poor management and the other is just a big rip off outfit with no ethics!    

Hey JCP; How's that pro gay and pro interracial advertising working out for you?  You tried cramming your social agenda down your customer's throats and your most loyal base fled in droves.  You can't unring that bell regardless of musical management chairs.  Your PC social engineering required the approval of your customer base.  We voted with our wallets and you're reaping what you've sown.  When you go under, maybe you can have Ellen DeGeneres read the obituary. 
Are you sure you want to delete this comment?
DATA PROVIDERS
Copyright © 2014 Microsoft. All rights reserved.
Fundamental company data and historical chart data provided by Morningstar Inc. Real-time index quotes and delayed quotes supplied by Morningstar Inc. Quotes delayed by up to 15 minutes, except where indicated otherwise. Fund summary, fund performance and dividend data provided by Morningstar Inc. Analyst recommendations provided by Zacks Investment Research. StockScouter data provided by Verus Analytics. IPO data provided by Hoover's Inc. Index membership data provided by Morningstar Inc.
MARKET UPDATE
[BRIEFING.COM] Precious metals are trading lower this morning. Dec gold brushed a session low of $1212.50 in recent action and is now down 0.2% at $1214.60. Dec silver traded as low as $12.57 but has been inching higher in recent trade. It is currently at $17.71, or 0.8% lower.

Nov crude oil pulled back from its session high of $91.82 set at pit trade open and is slipping deeper into negative territory. It touched a LoD of $90.77 and is currently down 0.9% at $90.86.

Oct natural ... More
More Market News