Is 'middle class' a Marxist term?
Rick Santorum says Americans shouldn't define themselves by economic boundaries. 'Since when in America do we have classes?' he asks.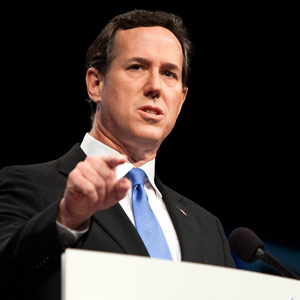 Every time a major election rolls around, political candidates reveal a near-obsession with the middle class. After all, middle-class voters make up a vast and important constituency, one that politicians must woo for any chance of success.
But is the idea of a middle class itself anti-American? Is it Marxist, in fact?
That's what former presidential candidate Rick Santorum thinks. Speaking to a group of Republican supporters in Iowa in August, he noted that President Barack Obama talks about the middle class all the time. (See the video
here
.)
"Since when in America do we have classes?" Santorum asked. "Since when in America are people stuck in areas or defined places called a class? That's Marxism talk."
He encouraged Republicans to stop talking about the "middle class" because it divides the country. "Stop it," he said. "There's no class in America."
His comments were somewhat debunked by an essay on The American Conservative
website
, which noted that class distinctions existed long before Marx. In fact, the theory of class conflict was developed by classical liberals and emerged as early as 1837. Modern libertarians have attempted to reclaim that original vision, writes Anthony Gregory, with their opposition to the taxing state and the way the banking and defense industries "line their pockets at the expense of the people."
Still, Santorum's view is a fascinating one. He embraces an idyllic vision of America in which there are no economic distinctions and income mobility is unlimited, where anyone can get anywhere through hard work and determination.
Certainly there are examples of rags-to-riches life stories, of extraordinary people who were able to pull themselves out of poverty on their own. But it's becoming much tougher to do that. The class lines in America are not only real, but they are hardening. The country is practically a real-life "Downton Abbey" at this point.
Consider one study showed that 42% of American men raised in poverty stay there as adults. That's much higher than the 25% in Denmark and the 30% in Britain, The New York Times
reports
. And the rags-to-riches story is very rare: Just 8% of American men in poverty rise to the top fifth of incomes.
Income mobility, or the ability to move into wealthier classes, fell by a "statistically significant degree" between 1995 and 2005, the Boston Federal Reserve
reports
.
Your location may play a role. One recent Harvard University
study
found that in cities like Atlanta, where low-income families often have little to no interaction with higher-income individuals, a child born in poverty has just a 4% chance of becoming wealthy. But in cities like Salt Lake City and San Francisco, the chance of that climb rises to over 11%.
Santorum may view the phrase "middle class" as Marxist -- although, curiously, he has
used the term
several times before -- his comments shouldn't be dismissed outright. In an ideal world, Americans should not be held back by class lines, and everyone should have an equal chance to make it in life. But in reality, the
rich are getting richer
and the poor are getting locked out of opportunities, and those trends aren't changing whether you utter the words "middle class" or not.
More on moneyNOW
DATA PROVIDERS
Copyright © 2014 Microsoft. All rights reserved.
Fundamental company data and historical chart data provided by Morningstar Inc. Real-time index quotes and delayed quotes supplied by Morningstar Inc. Quotes delayed by up to 15 minutes, except where indicated otherwise. Fund summary, fund performance and dividend data provided by Morningstar Inc. Analyst recommendations provided by Zacks Investment Research. StockScouter data provided by Verus Analytics. IPO data provided by Hoover's Inc. Index membership data provided by Morningstar Inc.
MARKET UPDATE
[BRIEFING.COM] The major averages posted solid gains ahead of tomorrow's policy directive from the Federal Open Market Committee. The S&P 500 rallied 0.8%, while the Russell 2000 (+0.3%) could not keep pace with the benchmark index.

Equity indices hovered near their flat lines during the first two hours of action, but surged in reaction to reports from the Wall Street Journal concerning tomorrow's FOMC statement. Specifically, Fed watcher Jon Hilsenrath indicated that the statement ... More
More Market News