Is Putin secretly the world's richest man?
Russia's president earns less than $200,000 a year on the job. But there are signs that he may be far wealthier than he lets on.
Vladimir Putin earns less than $200,000 a year as Russia's president. At least, that's the official line.
There is new speculation, however, that Putin could be ridiculously rich -- perhaps even the richest man in the world. Putin isn't admitting anything, though, and few others know many details about his fortune.
This is a man who reportedly has a watch collection
worth
$700,000. He's given away pricey watches as gifts, such as the $10,500 Blancpain he gave to a Siberian boy he met while on vacation in 2009, ABC News
reports
.
You don't have a $700,000 watch collection without some serious wealth. But how rich is Putin?
Many estimates refer to a 2007 interview by Russian political analyst Stanislav Belkovsky claiming that Putin controlled 37% of oil company
Surgutneftegaz
and 4.5% of energy company
Gazprom
, Bloomberg
reports
. Based on those holdings alone, Putin's wealth was estimated at $40 billion at the time.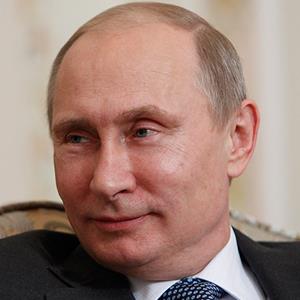 How much has his fortune grown since then? Enough to surpass that of Bill Gates, the co-founder of
Microsoft
(
MSFT
), who is thought to be the world's richest with $72 billion? (Microsoft owns and publishes moneyNOW, an MSN Money site.)
Belkovsky returned to the subject last year, estimating that Putin's wealth had likely grown to as much as $70 billion,
according to
The Bureau of Investigative Journalism. Even if Putin's fortune had not grown at all since then, the figure would put him on par with Gates. But it's very likely that Putin did increase his wealth over the last year.
Putin has flatly denied any suggestion that he is wealthy. But others have documented how Putin's friends and family members have become fabulously rich during his time in office,
writes
Leonid Bershidsky this week in Bloomberg.
"He has the whole country at his beck and call," writes Bershidsky. "It is enough for Putin to snap his fingers, and state-owned companies will cede assets to his friends at bargain-basement prices. A whisper from him, and wealthy private businessmen will chip in for the lavish refurbishment of a presidential residence."
DATA PROVIDERS
Copyright © 2014 Microsoft. All rights reserved.
Fundamental company data and historical chart data provided by Morningstar Inc. Real-time index quotes and delayed quotes supplied by Morningstar Inc. Quotes delayed by up to 15 minutes, except where indicated otherwise. Fund summary, fund performance and dividend data provided by Morningstar Inc. Analyst recommendations provided by Zacks Investment Research. StockScouter data provided by Verus Analytics. IPO data provided by Hoover's Inc. Index membership data provided by Morningstar Inc.
MARKET UPDATE
[BRIEFING.COM] S&P futures vs fair value: -5.50. Nasdaq futures vs fair value: -13.00. Nasdaq at... NYSE Adv/Dec 0/0... Nasdaq Adv/Dec 0/0.
More Market News