Is the McWrap McDonald's secret weapon?
The new offering from the fast-food chain is another attempt to match Chipotle's and Five Guys' fresh products.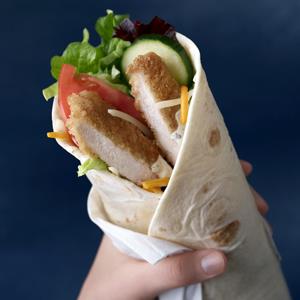 Never mind the
slumping same-store sales
, the trims to its
sprawling, directionless menu
and the advances by competitors that have embraced their fast-food roots:
McDonald's
(
MCD
) is just a McWrap away from dominance.
At least that's what a four-page spread from Bloomberg Businessweek would like you to believe. The thesis behind this tome is that the April 1 release of the Premium McWrap -- a 10-inch, white-flour tortilla wrapped around three ounces of chicken (grilled or "crispy"), lettuce, spring greens, sliced cucumbers, tomatoes, and cheddar jack cheese that McDonald's has been working on for two years -- will win McDonald's the love of the coveted millennial market and fend off Five Guys, Chipotle (CMG) and Subway.
After all, even McDonald's says so, with an internal memo obtained by Ad Age noting that Mickey D's doesn't even rank among millennials' top 10 favorite restaurants and that the "Subway buster" McWrap "offers us the perfect food offering to address the needs of this very important customer to McDonald's."

Except that McDonald's has already tried this approach with Snack Wraps, Chicken Selects, burritos, salads, Angus burgers and other "premium" items.
The overwhelming majority of those have been kicked off the menu by franchise owners who say the items are slowing down their kitchens. The premium "value menu," meanwhile, has been replaced by the cheaper dollar menu in hopes of wooing back customers who've been picked off by other, more traditional fast-food chains.
Yum Brands' (YUM) Taco Bell is offering waffle tacos as part of a new breakfast menu and testing a new value menu packed with $1 items. Burger King (BKW) is basically cloning the McRib boneless rib sandwich while offering delivery service in major cities.

Where Bloomberg and certain factions within McDonald's see the McWrap as a strength, even the company's chief executive, Don Thompson, suggests embracing delivery and all-day breakfast may be the better route to customers' hearts and stomachs. The "breakfast after midnight" menu the company is testing in select markets is already pushing that notion.
Despite trying those ideas, menu tweaks like popcorn chicken and suggestions that employees be kinder to customers, same-store sales declined 1% in the first quarter even as McDonald's share price rose. It wasn't that long ago that McDonald's was much better at this, fending off upstart competitors like Jamba Juice (JMBA) and Starbucks (SBUX) with its own McCafe smoothie and coffee offerings.
When it came to countering the fresh offerings of Chipotle and Panera Bread (PNRA), however, feeble efforts like Fish McBites have fallen flat. Even the long-abandoned McDLT of the 1980s with its separate compartments for the burger and its fresh toppings was closer to the mark than what McDonald's is offering now.
McDonald's has spent too long trying to be everything but the fast-food chain it is. By outwardly playing catch-up with smaller competitors and losing ground to fast-food companies it no longer deigns to consider rivals, McDonald's looks very uncomfortable in its own skin. Even if it follows its CEO's advice and plays to its strengths, it's not clear if the chain knows what those strengths are anymore.
DATA PROVIDERS
Copyright © 2014 Microsoft. All rights reserved.
Fundamental company data and historical chart data provided by Morningstar Inc. Real-time index quotes and delayed quotes supplied by Morningstar Inc. Quotes delayed by up to 15 minutes, except where indicated otherwise. Fund summary, fund performance and dividend data provided by Morningstar Inc. Analyst recommendations provided by Zacks Investment Research. StockScouter data provided by Verus Analytics. IPO data provided by Hoover's Inc. Index membership data provided by Morningstar Inc.
MARKET UPDATE
[BRIEFING.COM] The S&P 500 (-0.4%) remains near its low and is facing a bit of a challenge as five sectors display relative weakness, leaving the energy sector (-0.1%) as the top performer. The sector has received a measure of support from crude oil, which is higher by 0.9% at $91.73/bbl.

Elsewhere among commodities, gold futures ended the pit session with a gain of 0.3% at $1222.10/ozt, while silver and copper settled little changed at $17.78/ozt and $3.04/lb, respectively. ... More
More Market News