Judge Judy is TV's highest-paid star
Her $47 million a year dominates daytime and is nearly double the salary of second-place Jon Stewart.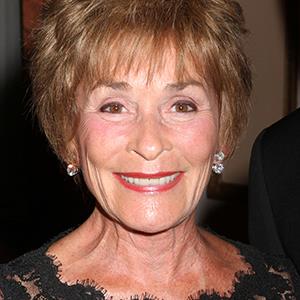 She's been on TV for 17 years, she's frequently the loudest noise in doctor and mechanic waiting rooms and she's paid $47 million a year for both of the above.
Judith "Judge Judy" Sheindlin is the highest-paid personality on U.S. TV, according to TV Guide, and has become so basically by reviving the courtroom show and being a more belligerent, quotable Judge Wapner. The show just took home its first-ever Emmy Award -- for Outstanding Legal/Courtroom Program -- and continues its run of daytime dominance as competitors including Oprah Winfrey's long-running talk show and "Judge Joe Brown" fall by the wayside.
How long has Judge Judy been berating hopeless family court defendants who would have been better served going though the standard court system away from prying, judging, questionably employed eyes?
Not only are the children born when her show first went on the air driving now, but the woman who first spoofed Judge Judy on "Saturday Night Live," Cheri Oteri, hasn't been a cast member since 2000.
That consistency and longevity doesn't come cheap. The second-highest paid personality behind Sheindlin, Jon Stewart of "The Daily Show," is paid $25 million to $30 million a year after building a loyal audience and drawing young eyes to Viacom's (VIA) Comedy Central since 1999. His show is regularly the top late-night program among viewers ages 18 to 49, the demographic advertisers love, and is especially popular with the younger members of that age group.
Much of the reason Matt Lauer has been under scrutiny this year is that $20 million to $25 million Comcast's (CMCSA) NBC is paying him this year to co-host "Today" isn't translating into ratings. That said, Lauer's paycheck still puts him in some rare company. Only Jay Leno's "Tonight Show" deal with NBC and David Letterman's "Late Show" contract with CBS (CBS) generate come anywhere near what Lauer, Stewart and Sheindlin earn. Those five are the only people in TV making $20 million a year or more.
Not that the networks aren't shelling out for other talent. CBS is giving Ashton Kutcher $750,000 an episode -- or more than $19 million per season -- to keep "Two and a Half Men" on life support.
Meanwhile, "Big Bang Theory" stars Johnny Galecki, Jim Parsons and Kaley Cuoco are expected to get $1 million an episode when their contracts are renewed after the upcoming season. That makes their current $325,000-an-episode haul seem like a bargain by comparison.
DATA PROVIDERS
Copyright © 2014 Microsoft. All rights reserved.
Fundamental company data and historical chart data provided by Morningstar Inc. Real-time index quotes and delayed quotes supplied by Morningstar Inc. Quotes delayed by up to 15 minutes, except where indicated otherwise. Fund summary, fund performance and dividend data provided by Morningstar Inc. Analyst recommendations provided by Zacks Investment Research. StockScouter data provided by Verus Analytics. IPO data provided by Hoover's Inc. Index membership data provided by Morningstar Inc.
MARKET UPDATE
[BRIEFING.COM] The major averages began the new trading week on a slightly lower note with small caps leading the weakness. The Russell 2000 shed 0.3% while the S&P 500 slipped less than a point with six sectors ending in the red.

Equity indices began the day in negative territory with only the Nasdaq (-0.04%) making a very brief appearance in the green. After sliding through the first hour of action, the major averages reversed and spent the remainder of the session climbing off ... More
More Market News
TOP STOCKS
What ate into McDonald's sales?
Like many companies this winter, the fast-food giant blamed a drop in same-store sales on the weather. But could its problems be bigger than a snowbank?