Lacoste fires a clerk who mocked paycheck online
A Manhattan worker gets the boot after foolishly posting his wages to Instagram and complaining about the city's cost of living.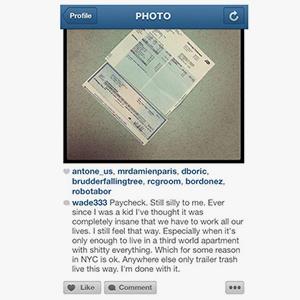 When Brooklyn meets Manhattan, it's rarely pretty, but here's a bit of advice for workers making their way over the river: When fast-food employees in your town are protesting just to get $15 an hour, posting your paycheck for wages earned at that rate on the Internet and mocking it isn't the best way to earn sympathy.
In the case of a former sales clerk at apparel chain Lacoste's flagship store on Fifth Avenue, doing that was enough to cost him his job.

According to Gothamist, Brooklyn resident Wade Groom was fired by Lacoste after putting a picture of his paycheck on Instagram and said this about it:

"Paycheck. Still silly to me. Ever since I was a kid, I've thought it was completely insane that we have to work all of our lives. I still feel that way. Especially when it's only enough to live in a third world apartment. . . . I'm done with it."
Yes, he is. Although Groom claimed the post "had nothing to do with the money" he was making, two weeks later, his manager approached him at work and invited him to a sit-down with company representatives. Up to that point, Groom had been making $15 an hour plus 3% commission, which earned him as much as $1,500 a week selling $39,315 worth of merchandise.
"The bossman called me downstairs and told me to get on a conference call with an HR manager," Groom told Gothamist. "The HR manager told me that the image somehow got back to the corporate office, and that it infringes our confidentiality agreement, and that I was fired."
When he "just clicked 'accept terms' on that" agreement, he'd basically made his company-related social media postings a termination offense. Although Groom had worked briefly at Saks Fifth Avenue before arriving at Lacoste, his corporate experience had been minimal to that point. His previous gig involved running a neighborhood play space for kids with the mother of his two children.

It earned Groom features in Time Out New York and the New York Post but didn't keep him from selling the business and looking for new work.
Unfortunately for Groom, he went job hunting in a U.S. labor market in which the most common job is that of a $25,000-a-year retail salesperson. Though the economy has recovered 5.7 million of the 8.7 million jobs shed during the recession, roughly 65% of them have been of the low-wage variety. Unfortunately, the National Employment Law Project says nearly 60% of all jobs lost during the recession paid middle-income wages or better.
While Groom's claims may hold some merit, including his assertion that "a stern warning would have been more appropriate" than his firing, the current economy tilts heavily in favor of the employers. While striking fast-food employees and union-backed discount store workers are making headway, this is a bad time to gripe about your paycheck in public.
"I'm not a corporate type person, I'm an artist and a musician. If you met me you'd never guess in a million years that I worked at Lacoste," Groom said. "But I'm a helluva salesman."
Unfortunately for Groom, the current climate prizes the latter far more than the former.
DATA PROVIDERS
Copyright © 2014 Microsoft. All rights reserved.
Fundamental company data and historical chart data provided by Morningstar Inc. Real-time index quotes and delayed quotes supplied by Morningstar Inc. Quotes delayed by up to 15 minutes, except where indicated otherwise. Fund summary, fund performance and dividend data provided by Morningstar Inc. Analyst recommendations provided by Zacks Investment Research. StockScouter data provided by Verus Analytics. IPO data provided by Hoover's Inc. Index membership data provided by Morningstar Inc.
MARKET UPDATE
[BRIEFING.COM] The stock market finished the Thursday session on a higher note with the S&P 500 climbing 0.5%. The benchmark index registered an early high within the first 90 minutes and inched to a new session best during the final hour of the action.

Equities rallied out of the gate with the financial sector (+1.1%) providing noteworthy support for the second day in a row. The growth-oriented sector extended its September gain to 1.9% versus a more modest uptick of 0.4% for the ... More
More Market News