Lawsuit accuses paint companies of toxic coverup
California cities and counties are trying to get help paying for damage and cleanup. But even overwhelming evidence that lead harms kids hasn't swayed the courts so far.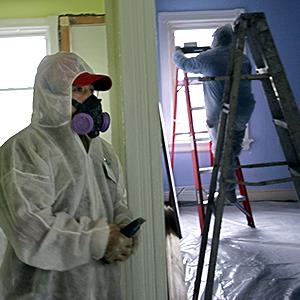 In the 1980s, asbestos and asbestos product manufacturers were targeted for links to mesothelioma and lung cancer. In the 1990s, the Tobacco Master Settlement Agreement pounded U.S. tobacco companies for the harm caused by tobacco use.
Now it's lead paint's turn.
Tesoro's (TSO) ARCO, ConAgra (CAG), DuPont (DD), NL Industries (NL), and the Sherwin-Williams Company (SHW) are on trial in the Superior Court of California. The companies are accused of
"aggressive marketing of lead paint, which they knew was highly toxic to young children" and creating "a public nuisance that threatens the health of California's children to this day," according to a trial brief.
The plaintiffs -- 10 California cities and counties -- maintain that the damage is still being done today thanks to lingering and deteriorating lead paint on the walls of homes. The plaintiffs are seeking some $1 billion in costs to strip the toxic heavy metal remaining on millions of residences throughout the state, save "additional children from being poisoned," and prevent millions of dollars in medical, special education and lost-productivity from affecting "society as a whole."
The U.S. Consumer Product Safety Commission banned lead paint in 1977, as well as toys, furniture and other items containing lead paint. By that time, lead poisoning had caused nervous damage, stunted growth kidney damage and developmental disorders in children so severe that the College of Physicians of Philadelphia's Mutter Museum dedicated an entire exhibit to its effects.
According to the Centers for Disease Control and Prevention and California's Childhood Lead Poisoning Prevention Branch, lead paint is the primary cause of lead exposure for children who live in older homes. In 2009 alone, 10,875 children in the cities and counties prosecuting the case had been poisoned by lead.
The CDC estimated that up to a half-million children have blood lead levels above the "level of concern" in May 2012. The CDC also noted that there is no safe level of lead in a child's blood.
Despite this, the paint industry doesn't tend to lose cases of this nature. The one time it lost -- in 2006 in Rhode Island -- the ruling was overturned on a technicality.
A representative for the companies, Bonnie J. Campbell, said the lawsuit has no "factual or legal merit,"and pointed to pointing to federal and California declarations that stated that lead paint "if well maintained and intact, typically poses no health risk."

If lead paint has been banned since the mid 70's then exactly where is it now? Sounds like some inventive lawyers have found a slum in New York Or New Jersey or somwhere that a landlord hasn't maintained or torn down and figures the corporations with the deep pockets can be made to pay up some forty years later. Sounds like someone has found a honey hole they think can be exploited. Todays lawyer, tomorrow's politician.
Are you sure you want to delete this comment?
DATA PROVIDERS
Copyright © 2014 Microsoft. All rights reserved.
Fundamental company data and historical chart data provided by Morningstar Inc. Real-time index quotes and delayed quotes supplied by Morningstar Inc. Quotes delayed by up to 15 minutes, except where indicated otherwise. Fund summary, fund performance and dividend data provided by Morningstar Inc. Analyst recommendations provided by Zacks Investment Research. StockScouter data provided by Verus Analytics. IPO data provided by Hoover's Inc. Index membership data provided by Morningstar Inc.
MARKET UPDATE
[BRIEFING.COM] The stock market welcomed the new trading week with a mixed session that saw relative strength among large-cap stocks, while high-beta names underperformed. The Dow Jones Industrial Average (+0.3%) and S&P 500 (-0.1%) finished near their flat lines, while the Nasdaq Composite and Russell 2000 both lost 1.1%.

Equities began the day on a cautious note amid continued concerns regarding the strength of the global economy. Over the weekend, China reported its first decline ... More
More Market News