Look who gets lawsuit threat after deadly plane crash
Asiana Airlines targets a California TV station over a fake, racist pilot list while distracting from the deadly crash the affiliate was covering.
An airliner crashes in San Francisco on July 6, killing three people and nearly 180. A San Francisco news station runs a bogus and racist list of pilot names confirmed by a ne'er-do-well National Transportation Safety Board intern.
Guess who's first to get threatened with a lawsuit?
If you had KTVU-TV in your Post-Tragedy Lawsuit Cynicism pool, congratulations.
Asiana Airlines
, whose plane crashed on July 6, has decided to sue
KTVU-TV
to "strongly respond to its racially discriminatory report" that disparaged Asians, spokeswoman Lee Hyomin said. She said the airline will likely file suit in U.S. courts.
The airline made that announcement on the same day that it announced it would enhance training for pilots learning to fly new aircraft. The pilot in charge of landing the crashed Boeing 777 plane was in training on the new aircraft, while a co-pilot on his first flight as an instructor was seated next to him.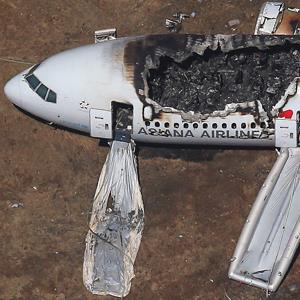 So why didn't Asiana's announcements include anything remotely related to those injured or killed in the crash or, at the very least, wag a finger of blame at the NTSB for its intern's misdeed? Well, Asiana's spokeswoman says that while the report seriously damaged Asiana's reputation, the airline decided not to sue the NTSB because it said it was the news item, not the U.S. federal agency, that did the damage.
Basically, the NTSB put out the report, but the station did nothing to vet it and ran it verbatim. The spokeswoman wouldn't elaborate, but Asiana feels a fight with a local TV affiliate, as opposed to one with a government agency, is the fight it can win.
Also, it allows Asiana to steer the discussion. By suing the station, it makes the next logical question "Why aren't you suing the NTSB?" rather than "What about those three Chinese teenagers who are now dead, the nearly 200 others who were injured and those pilots for whom this was all on-the-job training?"
That, in turn, leads everyone down a sunshine, lollipops and rainbows path that doesn't tread into such thorny areas as the legal rights of international passengers, access to civil trial lawyers and the availability of U.S. courts to all involved. Most importantly, it sprints away from questions about Asiana's liability in this crash, which has far more potential to damage the airline reputation than some NTSB intern's racist joke or the local broadcast affiliate that fell for it.

Hopefully a judge getting this case if it arrives in a USA court will see it for what it is and terminate it before it gets any further.
The airline needs to stand up and take it like a true business at fault. Poor supervision in the cockpit leads back to the training groups inside the company.
Once it arrives in any court the airline has to try all ways to covers it's behind to avoid a complete melt down in the open public . Once the airline is shown to have a poorly trained, training staff, the money it has in the bank will disappear to the customers and victim families and the San Francisco areas fire, rescue and the rest of the bills they are going to get.
A failed airline in the making. watch and see.!

No law suit from Asiana.  They are not citizens,therefore they are only entitled to an open court and we get a slap on the wrist if actions were wrong.  Maybe our retribution actions would make international complaints turn to the UN and with time and experience mature the UN, and, the foreign members.  Further, maybe it could influence the non-members!!!

I for one am appalled at how crass and irresponsible a federal agency can be in a time like this. A terrible plane wreak with all the injuries and unfortunately, three deaths and the NTSB will allow a report, that is supposed to be dealing with this tragedy, to be edited by an intern so they could add their own version of "humor" to this event. Really? An intern? Really? Someone tell me why this is a "laughing" situation. The facts need to identified and sorted out. Racist humor does not have any part in stating the facts and dealing with the consequences of the actions of the Asiana pilots. And then I fail to understand the lack of dignity and common sense shown by the TV station by airing the NTSB report without leaving out the "Intern's humor". If the NTSB cannot take this plane crash seriously then they should leave and let someone else give it the proper attention. Like the article states. It has allowed Asiana a way to distract focus on identifying what they did wrong and suffer the consequences.
Are you sure you want to delete this comment?
DATA PROVIDERS
Copyright © 2014 Microsoft. All rights reserved.
Fundamental company data and historical chart data provided by Morningstar Inc. Real-time index quotes and delayed quotes supplied by Morningstar Inc. Quotes delayed by up to 15 minutes, except where indicated otherwise. Fund summary, fund performance and dividend data provided by Morningstar Inc. Analyst recommendations provided by Zacks Investment Research. StockScouter data provided by Verus Analytics. IPO data provided by Hoover's Inc. Index membership data provided by Morningstar Inc.
MARKET UPDATE
[BRIEFING.COM] The stock market finished an upbeat week on a mixed note. The S&P 500 shed less than a point, ending the week higher by 1.3%, while the Dow Jones Industrial Average (+0.1%) cemented a 1.7% advance for the week. High-beta names underperformed, which weighed on the Nasdaq Composite (-0.3%) and the Russell 2000 (-1.3%).

Equity indices displayed strength in the early going with the S&P 500 tagging the 2,019 level during the opening 30 minutes of the action. However, ... More
More Market News