Mass resignation at Journeys reflects mall troubles
Employees at a store in New York quit at the same time and call out their manager online. That's a particularly tough loss when malls are dying and employing fewer young workers than ever.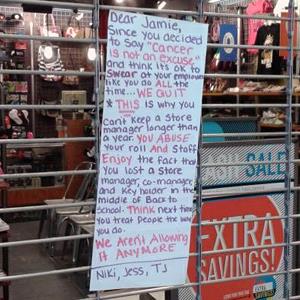 Each time we at MSN moneyNOW write a story about workers in the U.S. that fails to conjure Lesley Gore images of sunshine, lollipops and rainbows, we're met with the same response: If the job is so bad, why don't workers just quit?
First off, the actual unemployment rate is close to 11%, and closer to 26% for those younger than 34. Secondly, there's roughly one job is available in the U.S. for every three people who apply. When there are jobs, they're typically low-wage gigs that replaced higher-paying jobs that were available before the recession.
With all that in mind, it's all the more impressive that the staff of a Journeys shoes and apparel store in Rochester, N.Y., quit en masse and locked up the store during business hours before posting a photo of the store gates on Reddit last Saturday. Among the grievances cited on the former workers' resignation notice (pictured) posted on the shuttered store were claims of foul language by an abusive manager and the implication that said manager told an employee that "cancer is not an excuse."
Journeys made note of the incident on one page of its website, saying only this: "We take situations like this seriously and are currently investigating this issue. Beyond this, we have no comment."
This is a tough spot for Journeys and the mall hosting it on several levels. Forget for a moment that it only enhances Reddit's position as a soapbox for disgruntled retail and restaurant employees. This incident is just another example of retailers and the dying U.S. malls they call home alienating themselves from the young workers and shoppers they once relied on for survival. ShopperTrak, whose entire purpose is to gauge retail foot traffic, says the number of folks who passed through indoor malls last year dropped 1% from the year before and has been falling steadily.
As The Wall Street Journal noted last summer, analysis firm Green Street Advisors thinks 10% of the roughly 1,000 large malls in the U.S. will fail within the next 10 years. A report from Co-Star found that there are more than 200 malls with more than 250,000 square feet that have vacancy rates of 35% or higher, a "clear marker for shopping center distress."
Meanwhile, the Bureau of Labor Statistics notes that 1.015 million teens aged 16 to 19 found jobs in May and June, down 2.1% from last year. Though the number of unemployed teens of that age shrank from 1.86 million in June 2012 to 1.4 million this June, the number holding down a summer job also shrank from 5.2 million to 4.5 million during that span. That's kept lot of teens out of the workforce entirely, reducing the participation rate from 41% of all workers aged 16 through 19 last June to just 35% this year.
Fewer teens working the registers and racks means fewer hanging around the malls and spending money.
For managers who think berating the few workers who managed to get mall jobs will increase productivity and spending, here's a quick bit of reality: About 80% of millennials plan on changing jobs when the opportunity arises. Considering that a full 53% of millennials are completely detached from their work and putting in only as much effort as necessary, lambasting the other 47% into a very public resignation isn't going to get them to redouble their efforts, never mind do a few hundred bad kickflips in the parking lot with help from brand new, Journeys-bought DC skate shoes.
DATA PROVIDERS
Copyright © 2014 Microsoft. All rights reserved.
Fundamental company data and historical chart data provided by Morningstar Inc. Real-time index quotes and delayed quotes supplied by Morningstar Inc. Quotes delayed by up to 15 minutes, except where indicated otherwise. Fund summary, fund performance and dividend data provided by Morningstar Inc. Analyst recommendations provided by Zacks Investment Research. StockScouter data provided by Verus Analytics. IPO data provided by Hoover's Inc. Index membership data provided by Morningstar Inc.
MARKET UPDATE
[BRIEFING.COM] The stock market began the new trading week on the defensive note with small-cap stocks pacing the retreat. The Russell 2000 (-1.4%) and Nasdaq Composite (-1.1%) displayed relative weakness, while the S&P 500 lost 0.8% with all ten sectors ending in the red.

Global equities began showing some cracks overnight after China's Finance Minister Lou Jiwei poured cold water on hopes for new stimulus measures. Specifically, Mr. Lou said the government has no plans to change ... More
More Market News