Maybe churches shouldn't be tax-exempt
As a debate over clergy openly endorsing political candidates heats up, there's a simple solution.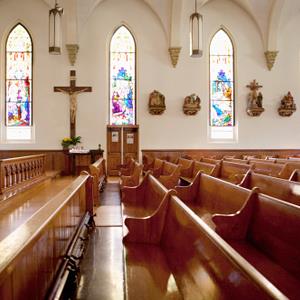 A conservative group wants churches to be able to endorse political candidates. The group's detractors say they have no problem with that -- as long as churches give up their tax-exempt status when doing so.
As Amelia Thompson-Deveaux at The American Prospect points out, the Commission on Accountability and Policy for Religious Organizations wants to change a 1954 law that prevents tax-exempt organizations from endorsing political figures. The group includes Florida megachurch pastor Joel Hunter, but it primarily comprises Christian CPAs and church financial advisers. It has drawn support from Republicans such as Kentucky Sen. Rand Paul and Iowa Rep. Steve King, who want the group to take on the IRS directly.
Roughly two-thirds of Americans agree that churches should not be able to endorse political candidates. Still, since 2008, thousands of ministers who believe the prohibition on their speech is unconstitutional have participated in "Pulpit Freedom Sunday," in which pastors openly endorse candidates from the pulpit and in some cases, transcribe their sermons and send them to the IRS, demanding an audit.

The IRS, however, hasn't audited a church on those grounds since 2009, when a federal judge threw out the IRS's case against a Minnesota megachurch that had allegedly endorsed Michelle Bachmann. The judge said the IRS needed to clarify its internal regulations, but the IRS has shown little motivation to do so.
The problem is that the Commission on Accountability and Policy for Religious Organizations, the Pulpit Freedom Sunday participants and a group set up by Sen. Chuck Grassley, R-Iowa, want the IRS to change its rules to allow political endorsements for all nonprofits – but don't want them to give up their tax-exempt status to do so.

Organizations like Americans United for Separation of Church and State and the Freedom from Religion Foundation don't like the sound of this one bit and have been pushing the IRS to prevent what they call "pulpit electioneering."
Slate's Matt Yglesias offered another approach: Make all houses of worship of all denominations pay taxes. Instead of discriminating against one religion over another or punishing a church for issuing a partisan statement on national policy rather than a nonpartisan one, tax all of them equally and allow all religious leaders to freely and openly endorse the political figures and ideology of their choosing.
Yglesias has some interesting company in this regard. Fox News analyst and former Republican presidential hopeful Mike Huckabee endorsed the same line of thinking earlier this summer.
"It may be time to quit worrying about the tax code and start thinking more about the truth of the living God," Huckabee told a group of Southern Baptist pastors. "We should stand more faithful with what God would have us say, and choose our freedom more than our financial benefit."
DATA PROVIDERS
Copyright © 2014 Microsoft. All rights reserved.
Fundamental company data and historical chart data provided by Morningstar Inc. Real-time index quotes and delayed quotes supplied by Morningstar Inc. Quotes delayed by up to 15 minutes, except where indicated otherwise. Fund summary, fund performance and dividend data provided by Morningstar Inc. Analyst recommendations provided by Zacks Investment Research. StockScouter data provided by Verus Analytics. IPO data provided by Hoover's Inc. Index membership data provided by Morningstar Inc.
MARKET UPDATE
[BRIEFING.COM] The stock market finished the Tuesday session on the defensive after spending the entire day in a steady retreat. The S&P 500 (-0.6%) posted its third consecutive decline, while the small-cap Russell 2000 (-0.9%) slipped behind the broader market during afternoon action.

Equity indices were pressured from the start following some overnight developments that weighed on sentiment. The market tried to overcome the early weakness, but could not stage a sustained rebound, ... More
More Market News