McDonald's corporate ladder has only low rungs
Contrary to CEO Don Thompson's claim, entry-level fast-food workers have just about no chance to move up.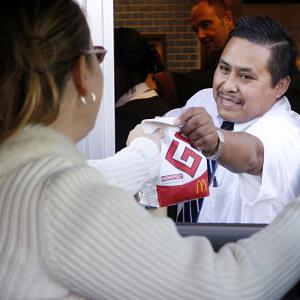 Can a company that advised employees to
take a second job
and, just two years ago, considered
replacing them with touch screens
really be considered a steppingstone to a bright future?
McDonald's (MCD) chief executive Don Thompson thinks so, telling Bloomberg his company has "always been an above-minimum-wage employer" and arguing that 40% of McDonald's executives started out as hourly employees. Critics who have already noted that his company's online budgeting tool for employees leaves out items like food and clothing were quick to disagree.
According to a new study by the National Employment Law Project, a fry shoveler or drive-though window cashier has little to no opportunity to climb the fast-food industry's corporate ladder. Fewer than 2% of industry jobs are held by the executives Thompson used as examples.
Instead, nearly 90% of all fast-food jobs belong to cooks, cashiers, delivery workers and other nonmanagerial workers. By comparison, 31% of jobs in other U.S. industries are above entry level. As NELP pointed out to The Huffington Post, front-line fast-food jobs pay a median hourly wage of $8.94 and workers stay in those positions for years at a time with scant opportunity for advancement.
The industry is also set up in such a way that someone working the fryers could just about never rise into the upper echelons of the industry. McDonald's has one franchise owner per 293 employees. Yum Brands' (YUM) Taco Bell and KFC require their franchise owners to have a net worth of $1.5 million and liquid assets totaling up to $750,000.
It doesn't get easier when the same fast-food establishments keep pulling the ladder out from under their entry-level employees. White Castle just joined a parade of fast-food chains planning to hire only part-time workers in order to duck the effects of the Affordable Care Act. Other chains are cutting back workers' hours, reducing their benefits or firing them.
McDonald's may be "providing opportunity," as Thompson says, but his claim that the company is helping employees "rise through the system and gain greater and greater wealth" looks a bit supersized.
DATA PROVIDERS
Copyright © 2014 Microsoft. All rights reserved.
Fundamental company data and historical chart data provided by Morningstar Inc. Real-time index quotes and delayed quotes supplied by Morningstar Inc. Quotes delayed by up to 15 minutes, except where indicated otherwise. Fund summary, fund performance and dividend data provided by Morningstar Inc. Analyst recommendations provided by Zacks Investment Research. StockScouter data provided by Verus Analytics. IPO data provided by Hoover's Inc. Index membership data provided by Morningstar Inc.
MARKET UPDATE
[BRIEFING.COM] S&P futures vs fair value: -5.50. Nasdaq futures vs fair value: -13.00. Nasdaq at... NYSE Adv/Dec 0/0... Nasdaq Adv/Dec 0/0.
More Market News